Project Billing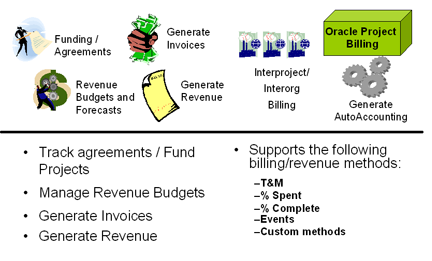 Oracle Project Billing provides you with the ability to generate revenue & create invoices for your contract projects. It integrates with other Oracle Applications to process revenue and invoices.

A standard oracle project billing cycle consists of following steps.

Create a project. Enter project

customers and contacts

with whom you have negotiated and contracted project work. Enter the

project billing methods.

Enter

agreements (contracts)

from your customers and fund projects with those agreements.
Generate

revenue

using various methods including time and materials, percent complete, and cost plus.
Create

draft invoices

from detail transactions and milestones for online approval by your project or accounting managers.

Interface revenue to Oracle General Ledger

and invoices to Oracle Receivables while maintaining a detail audit trail.

Report

project revenue, invoice, and receivables status online and in reports.
Billing Options for Projects and Tasks
You specify project and task options to control how Oracle Project Billing processes your transactions. Use the Options region in the Projects, Templates window to specify the billing options for your projects and tasks:

The following table lists the billing options you can specify for your project and tasks: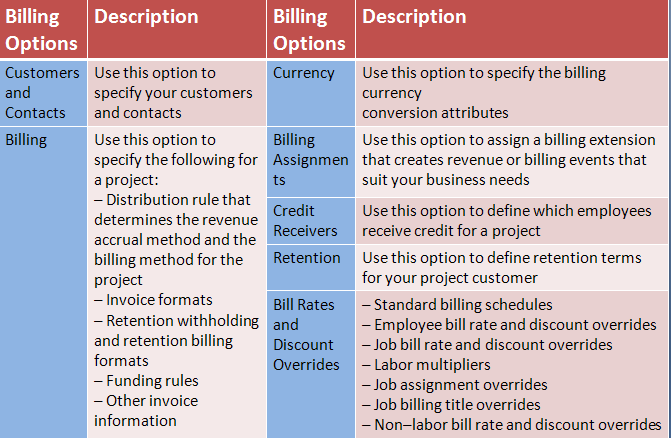 Accounting Transactions
Oracle Project Billing allows you to generate draft invoices and draft revenue using separate processes, which you can run at different times. To allow for different billing cycles and revenue accrual, the distribution lines for General Ledger are created during invoice and revenue generation.

During the Generate Draft Invoices process, the account that is credited with the invoice amount is either the unbilled receivables (UBR) account or the unearned revenue (UER) account, depending on whether you accrue revenue before or after you generate invoices.