Accounts Payable
A payables system is the last stage of supply-chain management. It allows companies to pay suppliers for merchandise and services. There are several opportunities in Oracle Payables for automation, because the terms and conditions are known at the purchase order (PO) stage and, assuming that the goods are accepted, payment follows at a fixed time later.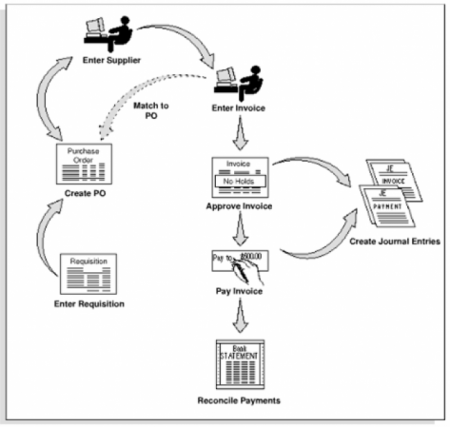 Payables controls are equally applicable to paying employee expenses and paying vendors for expensed and capitalized items. It is no more than prudent management to pay invoices only when they are due and, invoice or not, to be sure that payment is not made before delivery unless it has been explicitly agreed.

Receiving goods and paying for them weeks later amounts to an interest- free loan from your supplier. Supermarkets are champions at using the good terms offered by suppliers. Supermarkets might be operating on wafer-thin margins, but they regularly sell their stock days—if not weeks—before they pay for it. They have a surplus working capital, which they invest for profit. Supermarkets are an extreme exponent of investing other people's money wisely; however, managing suppliers' payment terms is a business practice from which all commercial organizations can benefit.

The Payables cycle consists of the following four steps:
1. Enter invoices. (This process may or may not include matching each invoice to a purchase order.)
2. Approve invoices for payment.
3. Select and pay approved invoices.
4. Reconcile the payments with the bank statement (part of Oracle Cash Management).

Payables Workbenches
Payables includes two fully integrated workbenches, the I

nvoice Workbench

and the

Payment Manager

. You can perform most of your transactions in Payables using the Invoice Workbench or the Payment Manager. You enter, adjust, and review invoices and invoice batches in the Invoice Workbench. You create, adjust, and review payments and payment batches in the Payments Manager.
You may be restricted in the windows, buttons, and actions you can access based on the Function Security implemented by your System Administrator.