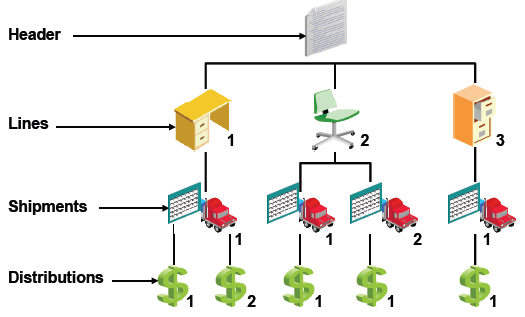 Header
Each purchase order has a header that provides the supplier's name/number and address (through sites), basic ship-to and bill-to addresses (through locations) and a status.
Lines
Goods or services ordered are listed on the Lines region, including quantities, price, need-by date, notes to supplier and price reference information. You can order system items or onetime items (a category and description). Even companies who are not inventory focused can benefit from defining system items to reduce data entry requirements for their staff.
Shipments
Use the Shipments window to specify inventory organizations, ship-to locations and the date you want your supplier to deliver the items on the purchase order line. A purchase order line with a quantity of six items can, for example, have two scheduled shipments on separate dates.
Distributions
Use the purchase order Distributions window to enter distribution information for purchase order shipments or to view distributions that Purchasing has automatically created for you.
You can enter multiple distributions per shipment line. You can also view the on-line requisitions included on the purchase order or enter information about paper requisitions in this window.