Use the Releases window to enter, edit, and approve releases against blanket purchase agreements or planned purchase orders.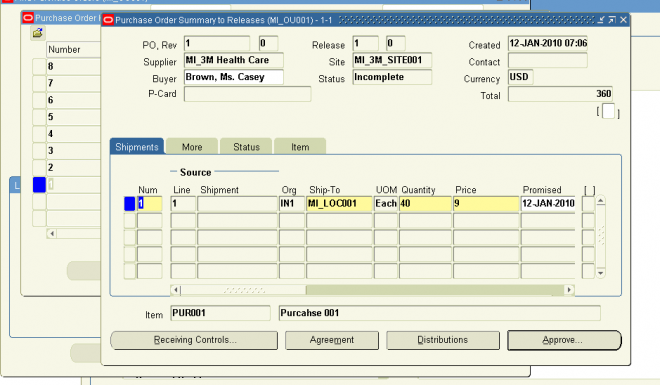 To enter release headers:
1. Navigate to the Releases window by selecting Releases from the menu or selecting the New Release button in the Find Purchase Orders window.
2. Enter the PO number for the release you want to create. The list of values displays all blanket and planned purchase order numbers that have been approved, the document type, status, supplier, buyer, and effectivity date range (global agreements are not available for releases). When you select a purchase order, Purchasing displays the Supplier, Site, and Currency for that order.
Purchasing also displays the Status of the release and the current Total amount of the release.
Note: Purchasing displays a P–Card number if the purchase order used one. A procurement card purchase order is created from a iProcurement requisition that used a corporate credit card for the purchase. This field displays if the profile option PO: Use P–Cards in Purchasing is set to Yes. Only the last four digits of the procurement card are displayed. Procurement cards can be used for items with a Destination Type of Expense, for documents that do not contain a Project number, and for standard purchase orders or releases only.
3. Purchasing displays the next Release number available. You can change the release number to any number that does not already exist.
4. Enter the Created date. The default is the system date, but you can change this.
5. If the Enforce Buyer Name option in the Purchasing Options window is set to Yes, your name is displayed as the Buyer, and you cannot change this value. Otherwise, you can enter the name of any buyer.
6. Enter release shipment line information in the Shipments tabbed region.
Entering Release Shipments
Use the Shipments tabbed region to enter shipment lines for planned and blanket releases and to edit shipments that Purchasing automatically generated for you. A purchase order shipment specifies the quantity, ship–to location, date you want your supplier to deliver the items on a purchase order line, and country of origin for the items.