Allocations in Oracle Projects is the allocation of cost amounts from one project to another. You can distribute cost amounts between and within projects and tasks, or to projects in other organizations if cross-charge is enabled. For example, a project manager can distribute salaries, and administrative overhead and equipment charges across several projects and tasks.
Before you can allocate costs, you must define an allocation rule for an operating unit, expenditure organization, and expenditure type. An allocation rule comprises of the following:
Costs or amounts that you want to allocate from specified source projects and tasks or source GL accounts.
Target projects and tasks to which you want to allocate amounts.
The proration method and basis on which to allocate source amounts.
The allocation method or frequency of allocation in an allocation run period.
The offset method and attributes for creating the offset or reversing transaction for the allocated amount on the source project or some other project created to incur offset transactions.
Create an allocation rule and define its attributes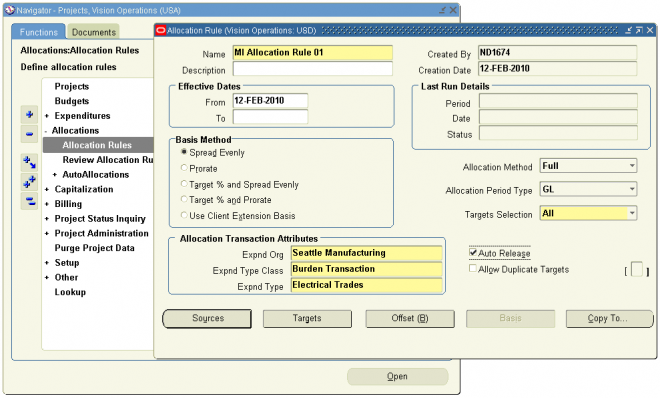 You create an allocation rule for an operating unit. An allocation rule has the following attributes:
The unique name and description of the rule.
The operating unit to which this rule applies.
The validity of the rule determined by the effective dates.
The expenditure organization, expenditure type class, and expenditure type on which the allocation transaction is created.
The basis of allocation, allocation method, and allocation period.
The target allocation location such as the current operating unit of the allocation rule, the current legal entity, the current business group, or all organizations in the project hierarchy.