A quote encompasses many stages before becoming a sales order or sales agreement. These stages can include a draft, customer negotiations, internal and external business approvals. Versioning can capture changes and the transaction seamlessly converts to a
sales order or can be archived as a lost or expired quote. Quoting draws all relevant information from the Order Management schema for use by the customer service representatives (CSR), enabling a seamless flow from a quote status through a sales order.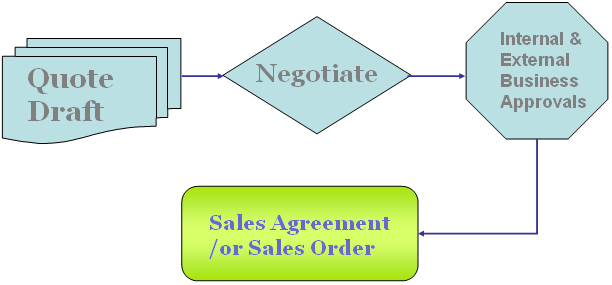 Why Should Business use Quote?
The creation and management of quote as a negotiation tool and transitioning the quote to a sales order, thus acting as a single point of entry into Order Management.
Preparation of quote for assisted selling of products and services to customers and business partners.
Processing the quote with or without approvals.
Quick entry of order lines with minimum data entry as the information captured on the quote gets carried forward into the sales order.
Using Quotes you can:
Create, modify, and select quotes
Configure complex products
Manually adjust quote prices
Perform real time global availability checks
Up Sell, Cross Sell
Calculate taxes
Assign sales credits
Convert quotes to sales orders
Support E-Business requirements
Reduce administration expenses and increase a sales person's productivity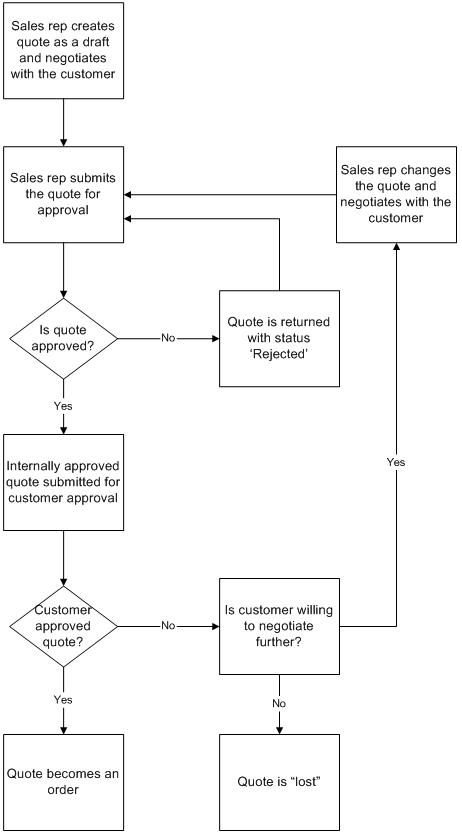 Workflows
Both Quotes and Sales Agreements(SAs) use the same seeded Negotiation workflows.
After Customer Acceptance, Quotes transition to a sales order and Sales Agreements become Active.
SAs do not capture an Offer Expiration date and therefore do not leverage this functionality in the Negotiation flow.
Unsupported Features
The functionality supported with Quotes is similar to the level of support for Sales Orders. There are a few Sales Order features that are not available during the negotiation phase of a transaction including:

Holds
Scheduling
Copy a return from a quote.
Independent line flows
Cancellations – progress to LOST Status
Ship and Arrival Sets
Commitments
Quotes for returns or Internal Sales Orders
Sales Agreements - Can specify sales agreement reference on a quote but released quantity and released amount on a sales agreement are updated only when a quote is converted to an order