Audit Trail records and tracks updates to specified order attributes as they occur. Reports of comprehensive audit trail updates of Oracle Order Management are generated using Processing Constraints, Lookups, a system parameter, and the Audit Trail Consolidator concurrent program. Current Processing Constraints functionality enables you to specify exactly what business functions, by entity you wish to control when performing order modifications. You can define new processing constraints that specify when, and for what attributes of an order, audit trail updates are recorded. The Order Management system parameter Audit Trail must be enabled to use this feature.
Process Flow
Oracle Order Management gives businesses the flexibility to audit as much or as little of their order process as they require. Each business can decide what order attributes are so critical that an audit needs to be maintained and then set up the
processing constraints accordingly. Once the constraints are defined, users can enter and change orders as they always have. If a change is made to an attribute that has been defined as requiring a reason to change it, then the user is prompted to select a reason code from a user-defined list.
Finally, queries can be run or reports produced to show what actual changes have been made to auditable attributes, who made the changes and when.
Versioning  V/S Audit Trial
Versioning works in conjunction with audit trail only when the transaction enters the

fulfillment phase

, not during the negotiation phase.
Version control applies to all sales documents including Sales Orders, Quotes and Blanket Sales Agreements but

audit trail is ONLY applicable to Sales Orders

.
Versioning can be manual or automatic.

Audit trail captures changes within a version but version control captures changes that increment a version

. The audit trail may track all sales order changes that may not necessarily constitute revising the sales order to a new version. You cannot track a single change with both Versioning and Audit Trail. The user must decide what method they wish to use to track the change history.
Version Control records the

entire business object,

allowing users to view the changes to the document real time and online. Whereas,

Audit Trail records a single change in order to capture who made the change and what the change was

.
Version control can

compare against previous versions where audit trail cannot.
Example
Business requirement is that whenever the currency code is changed in sales order header an audit trial needs to be generated.
1. Setups
Enable audit trial in system parameters.
Set up Processing Constraints to indicate which attributes on the order you want to have audit trail recorded for currency change.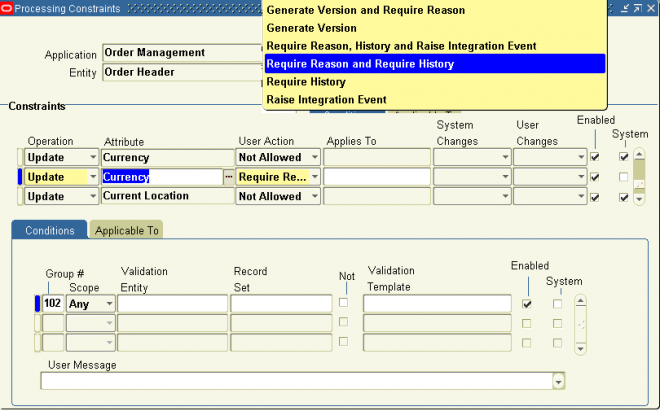 2. Process
Change the currency of the sales order.
Run the request Audit History Consolidator with correct parameters
Verify the record in audit history window
Setups
1. Set the OM System Parameter Audit Trail.
Navigate to Order Management > Setup > System Parameters > Values.
Select your Operating Unit.
Select Generic Parameters from the list of values.
For the Audit Trail Parameter, select from the list of values: "Enable when Order is Booked," "Enable when Order is Entered," or "Disabled."
2. Set up Processing Constraints to indicate which attributes on the order you want to have audit trail recorded for
Create some new Validation Templates if you have specific conditions to control whether or not to record audit information.
3. Add "View Audit History" menu option to the Order Management menu for those responsibilities that need to be able to view the new Audit History forms - this menu option will be created through seed data.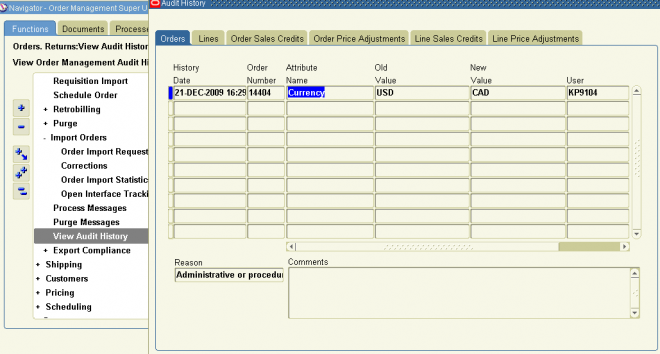 4. Schedule the Consolidator program (Audit History Consolidator) to run periodically to make audit information available to query and report.