This window is used to setup the list of the approvers (used for Quotes and BSA), which could be associated to the transaction type and/or transaction phase. 
You can define a different set of approvers for different transaction types and the transaction phase combinations. E.g. we have defined two transaction types, "Standard A" and "Standard B." You can use one set of approvers for Negotiation and "Standard A" transaction type and another setup of approvers for Negotiation a "Standard B" transaction type.
Note: Currently, the approval activity is only seeded in the Negotiation phase. For the Fulfillment phase, approval related activities have been seeded in the OM Standard WF item type. You can use this to create an approval subflow.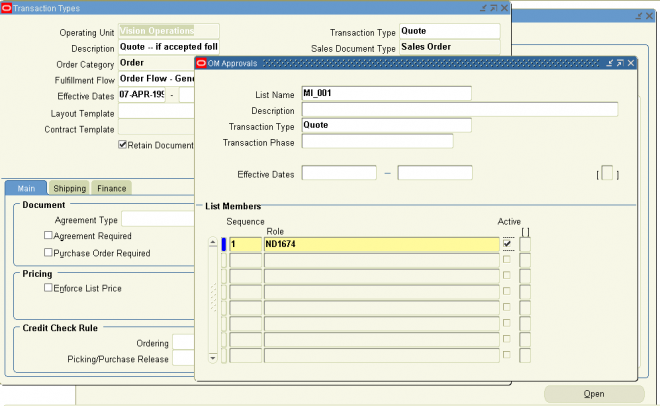 Notes : A role can be any employee of the organization
When the next approver in the chain of approvers is notified that a document requires review and approval/rejection, the approver can either:
View a summary or abstract from the workflow (WF) e-mail notification, including: Quote or BSA number, Description, Customer name, Forwarded from, Requester, Total Amount
View the entire sales document as it would appear for printing, including all products/services, pricing/discounts, and all other terms from the PDF link on the workflow notification
You can view the summary information from the notification, and view the entire sales document from an attachment on the WF notification.
Approval Recipient(s)
With this approach you can send notifications to a different set of recipients based on the setup in the Order Management Approval setup window. This gives more flexibility for setting up different hierarchical lists for different transaction phases and transaction type combinations.
Complete Approval Flow
1. Select the Negotiation Flow as Negotiation Flow - Generic with Approval.


2. Create the quote and progress it. The status changes from Draft to Pending Internal Approval.
3. Go to WF Notifications and approve the quote.