Set up tax profiles for your first party legal entities and legal establishments. First party legal entities identify your organization to the relevant legal authorities, for example, a national or international headquarters. First party legal establishments identify each office, service center, warehouse and any other location within the organization that has a tax requirement.
 
When you create a legal entity, the system automatically creates a legal entity establishment. You can create additional legal establishments according to your needs. For each legal establishment there are one or more tax registrations, depending upon the tax requirements of the applicable tax authority.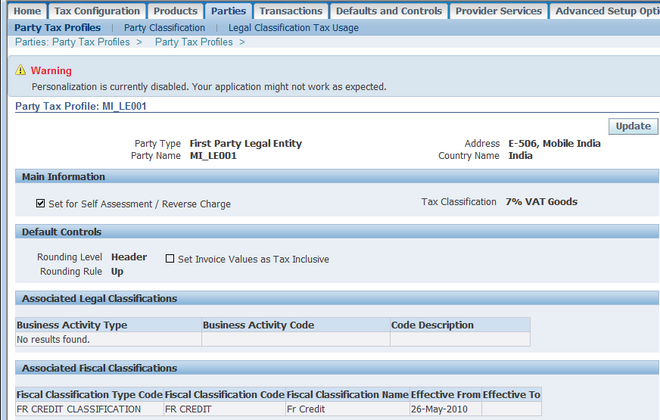 To set up a party tax profile for a first party legal entity or first party legal establishment navigate to the Create Tax Profile page.
1. Party main information values default to all tax registrations and invoices
belonging to this party. You can update these values at the tax registration level and, if authorized, at the invoice line level.
Note: The values set at the tax registration level override the values set at the party tax profile level.
2.1 Check the Set for Self Assessment/Reverse Charge box to automatically self-assess taxes on purchases.
2.2 If applicable, enter a tax classification code to use as a determining factor in tax rules for this party or party site.
2.3 Set the rounding level and rounding rule for this party.
2.4 If this party intends to send or receive invoices with invoice line amounts inclusive of tax, check the Set Invoice Values as Tax Inclusive box.
This option overrides the tax inclusive handling setting at the tax level, but not at the tax rate level.