You can set up a financial structure for a project that is separate from the workplan structure. The project then has different levels of control for cost estimated budgeting and revenue budgeting.
When you create a project from a project template or an existing project, Oracle Projects copies the financial structure from the source project or template. When you create a project template, Oracle Project automatically creates one default task for the financial structure. You may want to alter this structure by creating a new top task to begin a new branch of the work breakdown structure, or by creating additional subtasks under an existing task.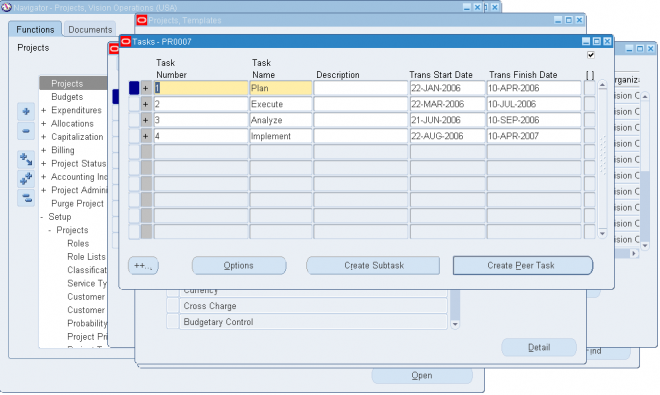 You cannot create subtasks for a task that has any of the following:
Transactions charged to it
Budget amounts (and the task is not a top task)
Transaction controls
Burden schedule overrides
Any billing overrides (for contract projects)
Asset assignments (and the task is not a top task) (for capital projects)
Task Attributes for Financial Structures
Some task attributes are used only for financial structures, or for structures that are used as both workplan and financial structures.
Examples of these are:
Allow Charges
Cost Burden Schedule
Capitalizable
Billable
Billing Schedules and Discounts
Transaction Dates
Viewing a Financial Structure
You can view the hierarchy of tasks for a project in the Tasks, Task Budgets, and Task Status windows. A plus sign (+) indicates an expandable task. A minus sign (–) indicates a collapsible task.
To delete a task
Navigate to the Projects window, find the project whose task you want to delete. From the Tasks window, select the task you want to delete and choose Edit, Delete Row from the menu or the toolbar.