Section Types: Featured, Navigational, and Leaf
Site sections are of two basic types: Featured and Navigational. A third category, Leaf, can be of either main type, depending upon its placement in the hierarchy.
Featured section:
Appears on the home page of its parent section
Contains products only i.e  cannot have subsections
 
Navigational section:
Appears as a hyperlink in the browsing map of its parent section -- users must select the section hyperlink to view the section
Can contain products or subsections,

but not both.
Leaf section:
Within these two types, a section also can be characterized as a leaf section. Following are the leaf section characteristics:
The leaf section is always the ending section or sections on a hierarchy branch, and thus never has subsections.
The leaf section can be a Featured or a Navigational type of section.
The leaf section's main purpose is for usage with Oracle iStore's Product Autoplacement feature.
Note that a leaf section is a logical definition, and not a section attribute that you can define in Oracle iStore.
Section Statuses: Published or Unpublished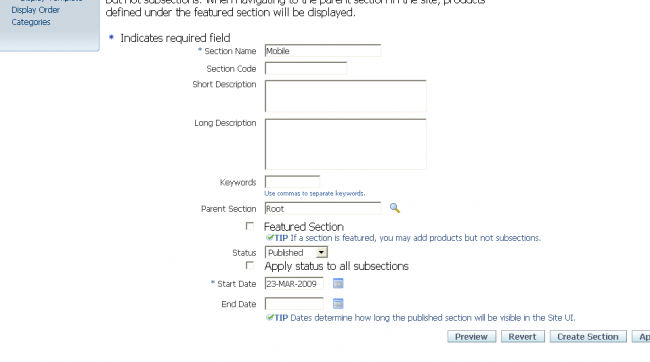 Before a section is available to customers in the Customer UI, you must flag the section as Published and save the changes. Unpublished sections cannot be seen by customers.

Published section:
Section and any published child sections or products are visible in both the Customer UI and Site Administration UI. In the Site Administration UI, the site administrator uses Preview mode to preview a section and its child sections in the context of a specialty site.
When publishing a section, the Apply status to all descendant sections checkbox in the Create/Update Section page enables you to publish the current section and all descendant sections (but not products) at the same time.
Unpublished section:
Unpublished sections and all child sections or products are not visible in the Customer UI, unless being viewed by the site administrator (i.e., a user logged in with the iStore Administrator or equivalent responsibility).
Sections and all child sections or products (whether published or unpublished) also are viewable by the administrator through the use of Preview mode (selecting the Preview button in Site Administration UI pages).
Product Statuses: Published or Unpublished
While working with the product catalog, you can determine whether or not to change the status of an Oracle Inventory product to Published or Unpublished. Only Published products are able to display in the Customer UI, unless the site administrator is using Preview mode.
Setting a product's Published/Unpublished status in the Oracle iStore Site Administration UI is the same as changing the product's Web Status setting in Oracle Inventory.
Category assignment is used during product auto-placement only for leaf sections.
System allows you to add categories in defined in the profile IBE: Category Set.
After adding the category set to a section when you create a new item for the above category system'll automatically publish the item in all the sections assigned to that category.