Oracle iStore allows businesses from all industries to establish business-to-business (B2B) and business-to-consumer (B2C) electronic commerce (e-commerce). Oracle iStore provides merchants with an easy-to-use interface for setting up Internet-based sites that capture and process customer orders. In addition, integration with other Oracle applications provides a broad range of e-commerce capabilities.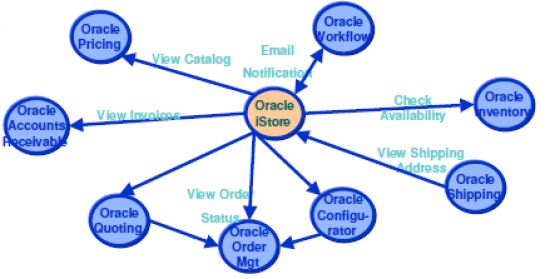 As a key part of Oracle CRM, Oracle iStore allows companies to build, personalize and manage robust and fully scalable Web commerce sites in both B2B and B2C environments. Customers can increase revenue by using Oracle iStore to run online marketing campaigns, cross-sell and up-sell related products, create targeted catalogs and pricing and manage the entire order and inventory processes.
Oracle iStore also integrates with Oracle Partner Management to enhance collaboration between a company's direct sales force, customers and partners. Using Oracle iStore, partners can work together on sales opportunities, manage accounts, seek assistance, initiate returns and place repeat orders. This functionality is critical as more companies move to a collaborative sales approach, merging activities across multiple channels - direct, indirect and online.
Mandatory Dependencies
Oracle iStore mandatory dependencies are Oracle products which provide the underlying technology stack, schema, and structure.
Oracle iStore mandatory dependencies are:
• Oracle CRM Technology Foundation
• Oracle E-Business Tax
• Oracle General Ledger
• Oracle Human Resources
• Oracle Inventory
• Oracle Order Management
• Oracle Order Capture
• Oracle Trading Community Architecture

Important Responsibilities
Following responsibilities are needed to implement Oracle iStore
iStore Administrator : 

Required for Setup content, section, site, templates etc                                                    Create Unlimited Number of Sites
Setup Pricelists, Shipping Methods etc.
Build Product Catalog using Oracle Inventory
Change site look and Feel by selecting different Section Templates and Product Display Templates
View and Configure Workflow notifications
View Business and Operational Reports

iStore Concurrent Program Administrator :

Required for Execute concurrent programs for data refresh                       Online shopping and orders processed into Oracle Order Management
Saves and Share Carts, Quotes etc
Track Orders
Cancel Orders
Submit Return Orders
Store and access user addresses and credit card data

IBE_CUSTOMER :

Required for Placing Orders using iStore website

CRM HTML Administrator (with all available ROLES):

Required for Setting business users and associate them to appropriate receivables account, Create Roles

Application Developer:

Required for Setting message codes and message text

Application Developer Common Modules (AK_DEVELOPER):

Setup regions, region items/attributes used for Post Sales (Order Tracking)