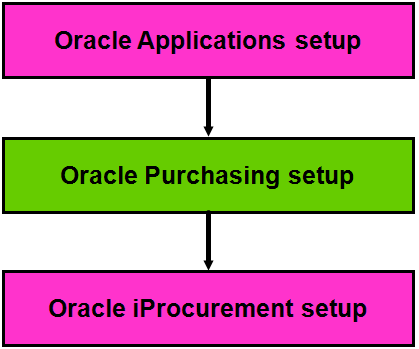 Perform Oracle iProcurement-specific system administration setup
Define information templates

Define data security (realms)

Enable

Categories for Oracle iProcurement



Perform preliminary catalog load


Perform preliminary catalog schema maintenance

Verify profile options for iProcurement
Verify workflow settings for iProcurement
Set up company specific order controls
Implement custom packages
PO: Allow Requisition Approval Forward Action - Only Site Level
When this profile is set to Yes, Approve, Reject, Forward, Approve and Forward actions are allowed in a requisition approval notification. Otherwise, only Approve and Reject actions are allowed.
PO:Workflow Processing
Affects the performance of the Purchasing approval workflow  processes. Online completes an entire approval workflow process before letting you proceed to the next activity. Background allows you to proceed to the next activity while the approval process completes in the background. Whichever option you choose, you can always view the current status of a requisition or purchase order through the Requisitions Summary or Purchase Orders Summary windows.
When this profile option is set to Background, you must start the Workflow Background Process, which you access through the System Administration responsibility. It is recommended that you set this process to run frequently, if you are using it for Background mode approvals.
POR : Default Currency Conversion Rate Type
Use this profile option to specify the default exchange rate type. This rate is used when creating non-catalog requests, when converting a bulk loaded item's transactional price into a requester's functional price, and when converting a punchout or transparent punchout item's transactional price into the functional price.
If you will be converting prices of punchout or transparent punchout items, this profile option must be set to either Corporate or Spot (not User). Otherwise, the requester will receive an error message during checkout that no exchange rate exists and will not be able to check out the item.
POR: Enable Automatic Debit Memo Creation for Returns
Enables automatic creation of debit memos for all return to supplier transactions. Valid values are Yes or No.
POR: One Time Location
Enter the location to be used as the one-time address. The application uses the location code entered here as the one time location. The actual one-time address details are entered during checkout.
POR: Require Blind Receiving
This profile is used to turn on/off Blind Receiving support in Oracle iProcurement. Blind receiving support requires  corresponding setup in Oracle Purchasing. Valid values are Yes or No.
POR: Use Oracle Approvals Manager
Indicate whether Oracle Appprovals Manager (OAM) will be used as the approval engine for requisitions.