Oracle iProcurement uses stores and catalogs to organize items for requesters.
What Are Catalogs?
A catalog is a cohesive source of supplier product and service information that provides a means by which the information can be found quickly by the requestor.
Attributes of a good catalog are:
Content (product categories)
Accuracy (product descriptions)
Robustness (availability)
Ease of use (good indexing, searching)
Why Use Catalogs?
An internet-based procurement solution is only effective if the user can reliably order the items they need.  Poor catalog management leads to:
Contract leakage
Maverick buying
Workarounds
Decreased spend control
Each store contains one or more catalogs of items. When requesters search, Oracle iProcurement searches across all catalogs in the store and displays the results. (You search one store at a time.).Grouping similar catalogs into a single store provides the following benefits:
Provides logical groupings. In some cases, requesters may understand store groupings better than categories, which may be too technical or granular for requesters.
Produces more relevant search results. For example, searching for battery can return AAA battery, industrial battery, and notebook computer battery. If, however, each battery is in a separate catalog and you segment the catalogs by store, the notebook computer battery can belong to a Computer Supplies store. Searching for a battery in the Computer Supplies store returns only computer batteries.
Types of Catalogs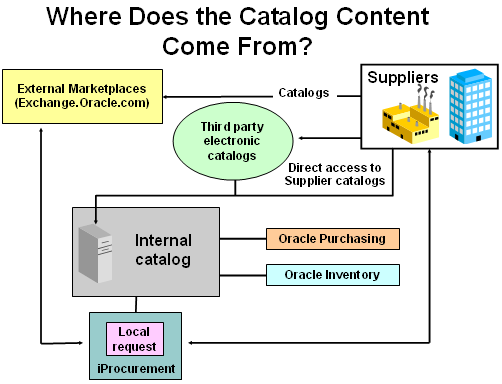 Oracle iProcurement supports the following types of catalogs:
■ Local catalog (also known as the base catalog - extractor & bulk loader)
■ Punchout catalog hosted by a supplier or marketplace
■ Transparent punchout catalog hosted by a supplier or marketplace
■ Informational catalog
Local Catalog
There are two sources for data residing in the local catalog. One of these sources is your internal procurement system. Using the catalog extractor, data from purchasing documents such as blanket purchase agreements and requisition templates can be made available to requesters in Oracle iProcurement. The other source for local content is data loaded directly into Oracle iProcurement through the catalog bulk loader. This data may have originated from a supplier or third-party content management service, downloaded from Exchange.Oracle.com, or created internally.
Punchout Catalog Hosted by Supplier or Marketplace
While creating a requisition, requesters can punch out directly to an Oracle Exchange marketplace, such as Exchange.Oracle.com, or to a supplier's Web store (to access supplier-hosted catalogs). After selecting items for purchase, requesters return to Oracle iProcurement to add additional items to their cart and check out as they normally do. For more information on setting up punchout, see the Punchout and Transparent Punchout Guide for Oracle iProcurement and Oracle Exchange.
Transparent Punchout Catalog Hosted by Supplier or Marketplace
A transparent punchout catalog (also known as a distributed search) allows requesters to search for items on an external site without leaving Oracle iProcurement. Unlike punchout, requesters do not access the site directly. Instead, when the requester searches for items, the transparent punchout works in the background to access the remote catalog and returns the matching items directly to the search results in Oracle iProcurement. Requesters do not necessarily know the items came from an external site. From the Search Results page, requesters add the items returned from the transparent punchout to their shopping cart and check out as they normally do. From Oracle iProcurement, you can set up a transparent punchout to a supplier site or to an Oracle Exchange marketplace, such as Exchange.Oracle.com.

Informational Catalog
An informational catalog enables you to provide to requesters instructions or links for ordering items or services that may not fit into the other catalog types. For example, your company may already have internal Web pages containing purchasing information for employees. You can use the informational catalog as the starting point for accessing those pages. The informational catalog enables Oracle iProcurement to be your company's portal for all ordering.