Before an expense report can be paid, an invoice must be created for it in Oracle Payables. The Expense Report Import program automatically generates invoices for expense reports created in Internet Expenses, but employees who submit them must be defined as suppliers in Payables.
To ensure that employees are defined as suppliers, enable the Create Employee as Supplier option in the Payables Options window. If you enable this option, Payables automatically enters employees as suppliers during the Expense Report Import program.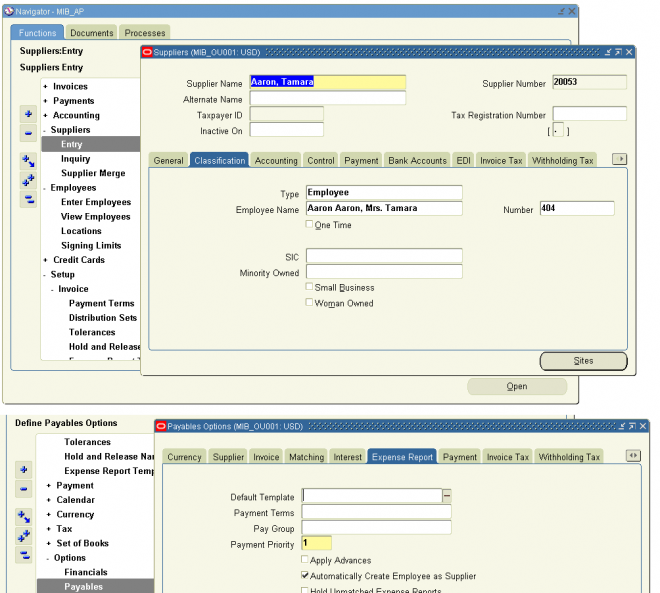 To automatically create employees as suppliers in Oracle Payables:
1. Navigate to the Payables Options window.
2. Choose the Expense Report tabbed region.
3. Check the Automatically Create Employee as Supplier box.
4. Save your work.
Note: If you do not enable this option in Payables, you must manually enter employees as suppliers in the Payables Suppliers
window before submitting Expense Report Import.
Default Reimbursement Currency Behavior
During expenses entry, Internet Expenses determines the default reimbursement currency to use for an employee in this way:
■ Look for the value (Home or Office) in the Mail To field of the Office Details region of the HR People window. If a supplier site record exists for the value, then use the supplier site Payment Currency value as the default reimbursement currency.
Note: Users cannot enter or view project-related information in the Payables Expense Reports window.
■ If the Mail To field does not contain a value, or if a supplier site record does not exist, use the supplier Payment Currency value as the default reimbursement currency.
■ If neither the supplier site nor the supplier record contain a Payment Currency value, use the functional currency of the operating unit in which the employee is entering the expense report. The operating unit is determined by the Internet
Expenses responsibility and the setting for the MO: Operating Unit profile option).