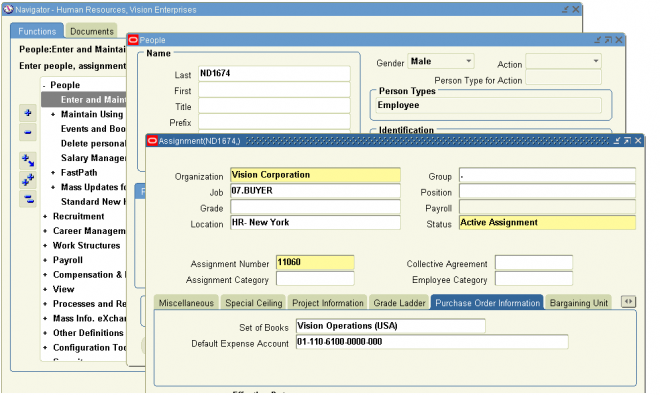 Define employee information for all persons that will use Internet Expenses. You can enter employee information in Oracle HRMS, or, if you do not use Oracle HRMS, in the Enter Person window in Oracle Payables. This table lists the personal information to enter for each employee and how Internet Expenses uses that information.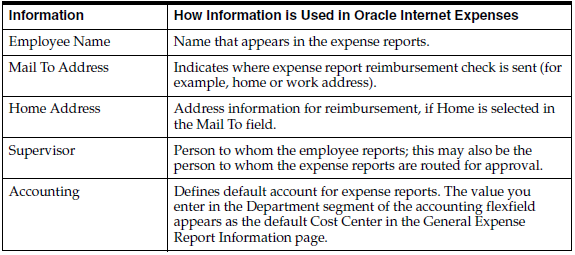 Note: Users do not need to define an employee's supervisor in Oracle Human Resources, if the supervisor is specified in the
Approver field on an expense report.
Default PO Expense account
In Human resources Responsibility
Navigate to People -> Enter and Maintain
Query the Person, click on Assignment tab, select Purchase Order Information Tab
Enter the 'Set of Books' and 'Default PO Expense' information
Setting up Contingent Workers
A contingent worker is a worker who does not have a direct employment relationship with your company and is typically a self–employed individual or an agency supplied worker. To use the contingent worker functionality in Internet Expenses,
you must set up your contingent workers and enter their supplier names in Oracle HRMS
To enter supervisory information: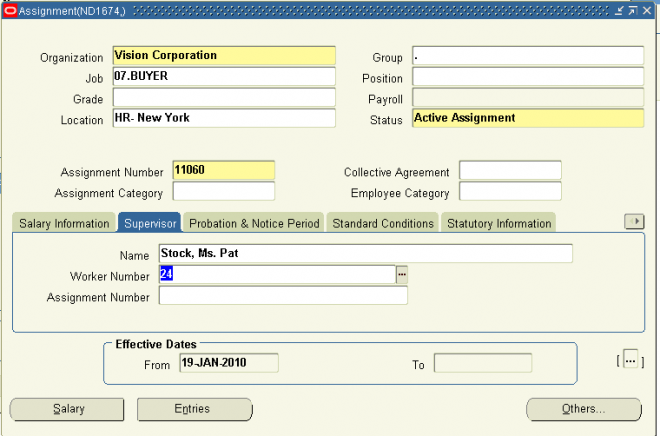 1. Choose the Supervisor tabbed region.
2. Select the name and number of the worker's personal supervisor.
You can select a contingent worker as a supervisor only if the HR: Expand Role of Contingent Worker user profile option is set to Yes.
You can select a supervisor from another Business Group if the HR:Cross Business Group user profile option is set to Yes at your site.
Note:
The application does not update this information. Use organization and position hierarchies to show management reporting lines.