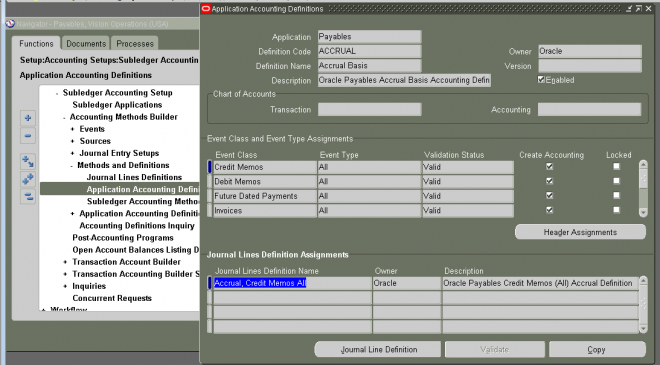 Use application accounting definitions to assign journal lines definitions, supporting references, and header descriptions to event classes and event types.
Storing the accounting definitions validation status at the event class and event level enables you to generate subledger journal entries for certain event classes or event types even if the accounting definitions for other event classes or event types are invalid.
Each event class and event type assignment consists of a header assignment and one or more journal lines definition assignments. A header assignment includes the following:
source assignments for the GL date and Accrual Reversal GL date, if enabled for the event class
a journal entry description (optional)
one or more supporting references (optional)
You can assign multiple journal lines definitions to an event class or event type. Subledger Accounting generates a single journal entry per accounting event and ledger using the line assignments from all the journal lines definitions assigned to the event class or event type. The following can be assigned to a journal lines definition:
Journal entry description
Journal line type
Account derivation rules
Supporting references
Sources are used by all of the above components.
The figure below shows the relationship of the components to an application accounting definition as described in the above text.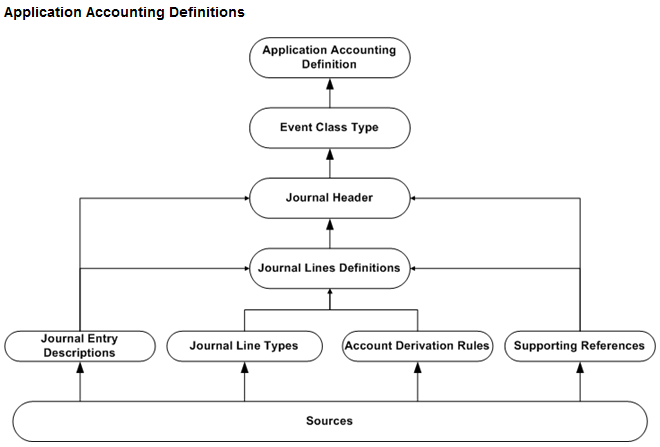 Application accounting definitions enable you to meet the subledger accounting requirement of multiple accounting representations. While one application accounting definition can generate subledger journal entries that are compliant with one particular set of accounting requirements, another definition can be defined to meet a completely different set of accounting requirements.
For example, use a complete set of US GAAP accounting definitions for Payables as an application accounting definition for the ledger US applications. Use a complete set of French GAAP accounting definitions for Payables can be used for the ledger French Operations. These two sets of definitions have differences based on the setup of the various components that make up their application accounting definitions.
Seeded application accounting definitions are provided for all Oracle subledgers. If specific requirements are not met by startup accounting definitions, users can copy and modify the seeded definitions and their assignments.
The Applications Accounting Definitions (AAD) Loader enables users to import and export application accounting definitions and journal entry setups between the file system and database instances. The AAD Loader also supports concurrent development and version control of the application accounting definitions.