Oracle Assets shares organization and hierarchy information with Oracle Human Resources. If your business does not currently use Oracle Human Resources, you define this data using the Oracle Human Resources windows provided with Oracle Assets.
Organizations are departments, sections, divisions, companies, or other organizational units in your business.
The illustration below depicts ABC Corporation's organization structure. There are three levels of organizations. ABC Corporation, the top–level organization, has three child organizations Americas, Europe, and Asia/Pacific. Each of these organizations also has several child organizations. For example, the Americas organization has the following child organizations: US, Canada, and Brazil.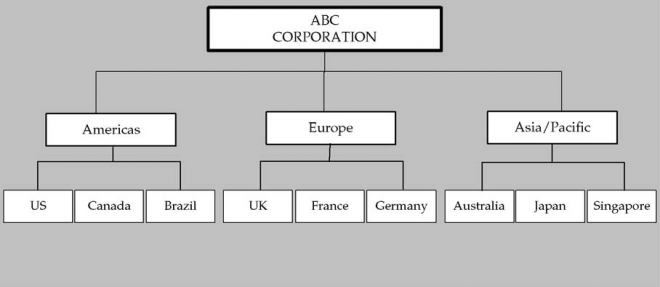 Organization Classifications - Asset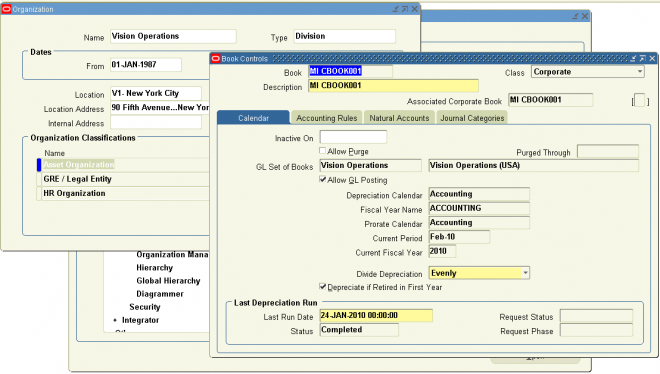 Oracle Human Resources uses organization classifications to determine the type of organizations being set up. To flag an organization for use in Oracle Assets, you enable the Asset Organization classification.
An asset organization is an organization that allows you to perform asset–related activities for specific Oracle Assets corporate depreciation books. Oracle Assets uses only organizations designated as asset organizations.
Organization Hierarchies in Oracle Assets
Organization hierarchies show reporting lines and other hierarchical relationships among the organizations in your business.
You use the Organization Hierarchy window to specify your organization hierarchy.
You need to define the top organization in the hierarchy and at least one organization subordinate to it.
Security
Security Profiles
A security profile allows you to control access to Oracle Assets through responsibilities that you create and assign to users of the system. Users can sign on to Oracle Assets only through the responsibilities that you give them. Their responsibilities control what they can see and do in the system.
A responsibility always includes a security profile, which you associate with a work structure such as an organization hierarchy.
Security List Maintenance Process
This process maintains the lists of organizations, positions, employees, and applicants that security profile holders can access. You should schedule it to run every night to take account of changes made during the day. If a disruption, such as a power outage, occurs while the process is running, you can manually restart it from the Submit Requests window.
Setting Up FA: Security Profile
The FA: Security Profile profile option restricts access to the organizations defined in the security profile. The options available for the FA: Security Profile are the previously defined security profile values.
For example, you may want to set up the security profiles for the ABC Corporation. Since there is a one to one correspondence between an organization and a security profile, a logical naming standard for the security profile value would include the organization name and the organization identification number. In this case, the organization ABC Corporation might have a security profile value of ABC_Corporation_100, the organization Americas might have a profile value of Americas_200, and so forth.