If you have created custom responsibilities that will be assigned to supplier users, securing attributes must be included in your custom responsibility definition There are three securing attributes that can be used to control access. These attributes are all seeded with the pre-defined Oracle iSupplier Portal responsibilities that are released with the product:
 ICX_SUPPLIER_ORG_ID -

Identifier for the supplier.

 ICX_SUPPLIER_SITE_ID -

Identifier for the supplier site.

 ICX_SUPPLIER_CONTACT_ID -

Identifier for the supplier contact.
To add the securing attributes to a custom responsibility:
1. From the Oracle System Administrator menu, select Security > Responsibility > Define.
2. In the responsibility form, search for the name of the custom responsibility you would like to modify.
3. In Securing Attributes region, search for the three securing attributes that have to be applied to this responsibility.
4. When you have identified all the attributes to apply to this responsibility, click Save.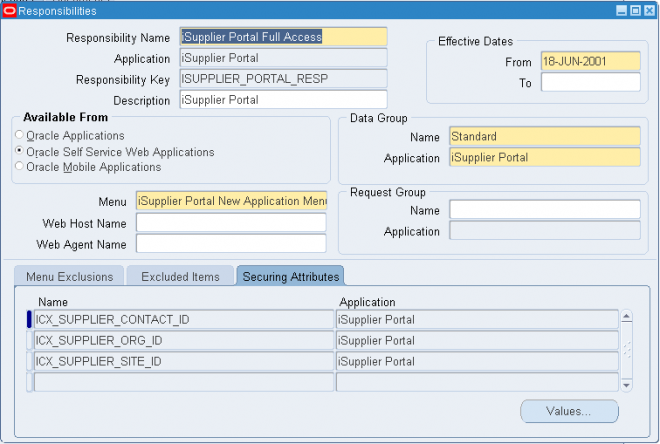 The various securing attributes enable the supplier user access to be restricted as follows: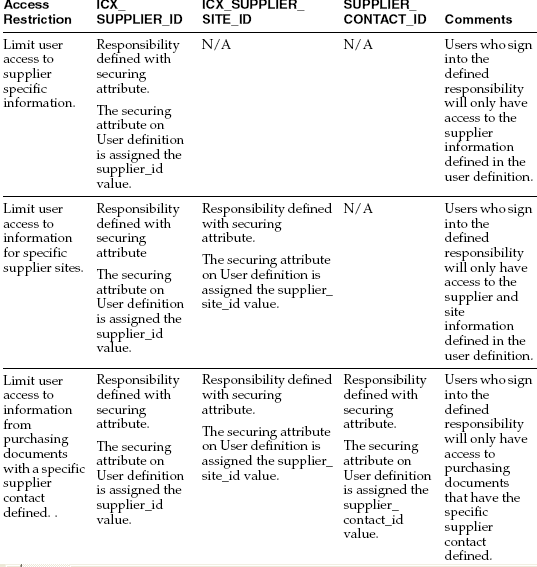 Enable Function Security

Oracle iSupplier Portal is delivered with several predefined responsibilities. By default, these pre-seeded responsibilities have access to all functions and standard pages that are appropriate for the responsibility. However, when appropriate, function security exclusions can be used restrict users of the responsibility from certain menus (tabs) or functions (sub-tabs).
In addition to limiting access to sets of pages whose associated functions or menus have been excluded, function security will also cause exclusion of associated regions and links for these functions on the Oracle iSuppier Portal Home page There are two types of function security exclusions:
Menu Exclusions

- used to prevent access to the main tabs (therefore the appropriate sub-tabs). If you need to restrict access to an entire tab, you can use a menu exclusion.
 

Function Exclusions

- used to prevent access to specific sub-tabs and other functionality. If you need to restrict access to a particular function (sub-tab), but allow access to the other functions of the parent tab, you can use a function exclusion.