General Ledger provides you with the flexibility to manage your financial information within any company structure. You can maintain multiple companies with similar or different accounting structures, and consolidate their results for meaningful financial reporting.
With a multi–company structure, you can:
Maintain

actual

,

budget

,

encumbrance

, and

average balance

information for each of your companies.

Control security

over each company's financial information so that only properly authorized individuals can review or change accounting information.
Create

intercompany accounts

for combinations of source, category, and balancing segment value to automatically keep your companies properly balanced and provide detail for reconciliation.
Produce

consolidated reports

.
Before you set up your multi–company organization in General Ledger, determine whether you can maintain information about each company in the same set of books, or whether you need to use multiple sets of books.
You need multiple sets of books if one of the following is true:
You have companies that require different

account structures

to record information about transactions and balances. For example, one company may need a 6–segment account, while another needs only a 2–segment account.
You have companies that use different

accounting calendar

s. For example, although companies may share fiscal year calendars, you may want a weekly calendar for one company and a monthly calendar for another.
You have companies that require different

functional currencies

. Consider the business activities and reporting requirements of each company. If you must present financial statements in another country and currency, consider the accounting principles to which you must adhere. Based on such considerations, choose the appropriate functional currency for each company.
You use multiple

Oracle Applications instances

for your companies.
Set Up Underlying Oracle Applications Technology
During GL setup, you need to complete several steps related to other products:
Performing system–wide setup tasks such as configuring concurrent managers and printers
Managing data security, which includes setting up responsibilities to allow access to a specific set of business data and complete a specific set of transactions, and assigning individual users to one or more of these responsibilities.
Setting up Oracle Workflow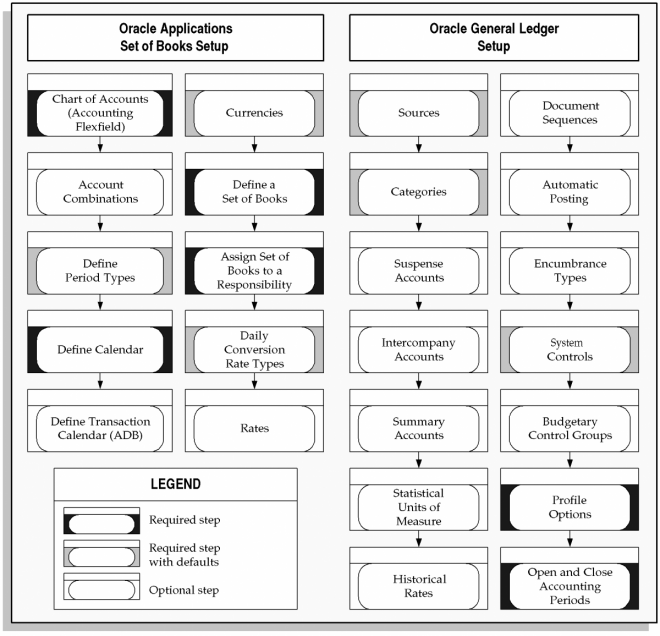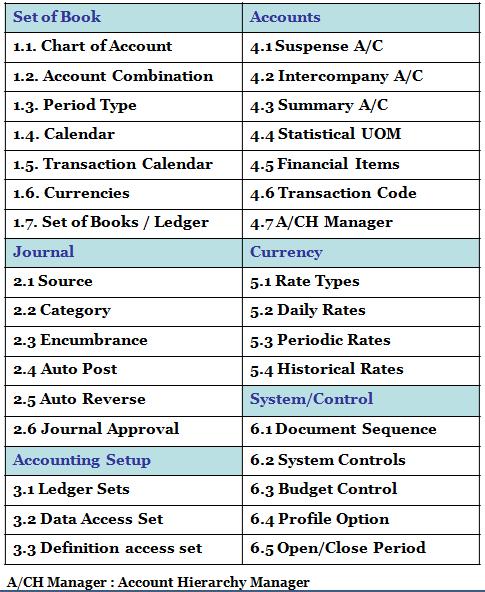 Shorthand Aliases