General Ledger provides you with a variety of reporting capabilities, including the Financial Statement Generator, online inquiries, and standard reports and listings.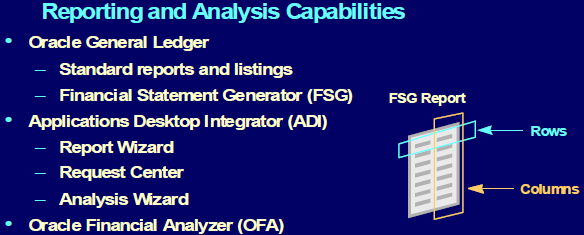 The enables you to build your own custom reports without programming. You can define reports with complete control over the rows, columns, contents, and calculations in your report.
You can perform

online inquiries

to search for detailed information quickly. For example, you can perform an online inquiry of your account balances or journal entries. You can also review any of your financial statements, accounting reports, or listings online.
General Ledger's

standard accounting reports

and listings include trial balances, journals, general ledgers, account analysis reports, chart of account listings, and more. You can set the runtime options for detail or summary information, sort sequence, and the selection of data you want to see on the report.
Overview of the Financial Statement Generator


Financial Statement Generator (FSG) is a powerful report building tool for Oracle General Ledger. With FSG, you can:
Generate financial reports, such as

income statements

and

balance sheets

, based upon data in your general ledger. Note that If you have average balance processing enabled in your set of books, you can report on functional, foreign–entered, or translated average balances.
Generate presentation quality

financial reports with XML Publisher

so you have more control with report formatting options, including changing font characteristics, inserting graphical images or logos, and adding color.
Define

segment value security rules

to restrict financial information contained in FSG report output generated by specific users and responsibilities.
Note: To apply segment value security rules, the profile option FSG: Enforce Segment Value Security must be enabled.
Define your reports with reusable report objects, making it easy to create new reports from the components of reports you've already defined.
Print the same report for multiple companies, cost centers, departments, or any other segment of your account structure, in the same report request.
Schedule reports to run automatically.
Produce ad hoc reports whenever you need them.
Print reports to tab–delimited files for easy import into client–based spreadsheet programs
Create XBRL instance documents for easier exchange and analysis of your reporting information.