To enable direct item (both supplier catalog and non-catalog items) procurement for eAM Work Orders directly from an eAM Work Order, Oracle iProcurement must be installed. You must set the PO: Enable Direct Delivery To Shop Floor profile
option to Yes. When this value is set to Yes, you can create an eAM-related requisition or purchase order. You can enter eAM specific information, such as Work Order and operation reference numbers, as well as identify a requisition line
as having a Shop Floor destination.
To enable direct item procurement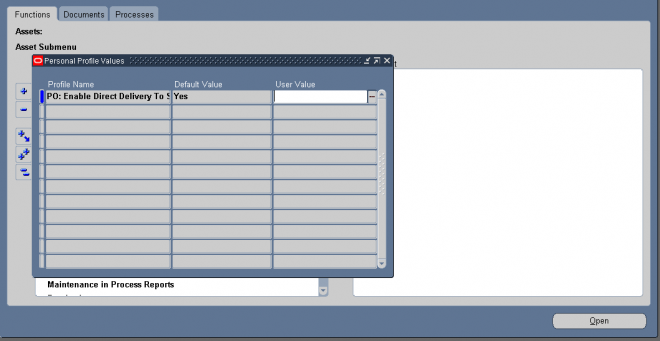 1. Navigate to the Personal Profile Values window.
2. Select PO: Enable Direct Delivery To Shop Floor from the Profile Name list of values.
3. Select Yes from the Default Value list of values.
4. Save your work.