avigate to the Resources window. You can do this by choosing the Resources button from the Departments window.
The Resources window is split into owned and borrowed resources.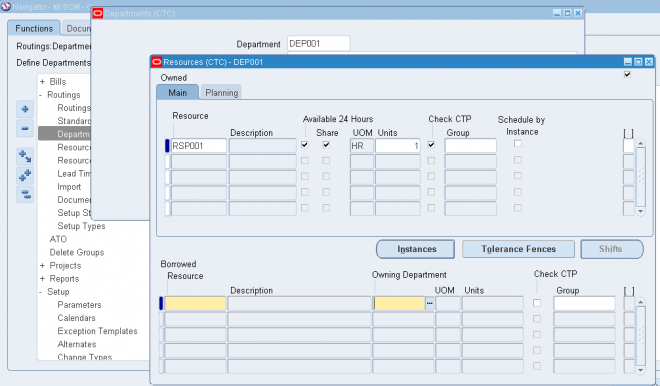 1.1. Enter the resource to assign to the current department.
1.2. Optionally, for owned resources, indicate whether the resource is available 24 hours a day. You cannot assign shifts to a resource that is available 24 hours a day.
1.3. For owned resources, indicate whether this department can share the resource and capacity with other departments.
1.4. Enter the number of capacity units (resource units) available for this department, for example, the number of machines for a machine resource.
Each resource can be assigned to any number of departments; multiple resources can be assigned to each department.
1.5. Optionally, select the Check CTP check box. The Check CTP check box tells the system to use this resource in a Capable to Promise (CTP) check.
1.6. Optionally, enter a resource group for the resource in this department.
1.7. Optionally, choose the Instances button to indicate if the department resource.
2.1. For borrowed resources, enter the owning department.
To plan for resources assigned to a department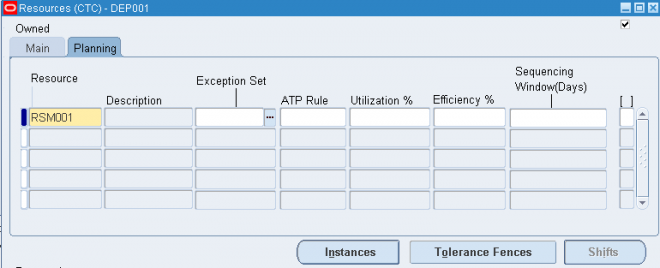 If you are using Oracle Capacity or Oracle Advanced Supply Chain Planning to ensure that you have sufficient capacity to meet your production requirements, then enter resource availability information in the Planning tab. All fields in this tab are optional.
1. Enter an exception set. The exception sets that you assign help identify capacity problems.
2. Select an ATP rule from the list of values.
3. Enter the utilization and efficiency percentage for the resource. Use these values to calculate the available hours for a resource.
4. Enter the sequencing window (in days) to consider when optimizing the sequence of jobs running on a resource with sequence dependent setups.