For every supplier, you can create an unlimited number of sites with different addresses and contacts. For example, for a single supplier, you can buy from several different sites and send the payments to only one site.
You can designate supplier sites as one of the following types:
- Pay Site: You can only enter an invoice for a supplier site that is designated as Pay Site.
- Purchasing Site: You can only create purchase orders in a Purchasing Site.
- RFQ Only Site: In Oracle Purchasing you can only create request for quotations from a Request For Quotations (RFQ) Only Site. You cannot create purchase orders in an RFQ Only Site.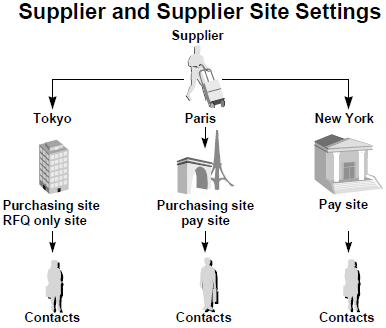 For every supplier site, you can enter contact information (name, address, and telephone number) specific to that site. Contact information is for your reference only and is not used by the system.
Avoiding Duplicate Suppliers
Before setting up a new supplier, verify that the supplier does not already exist in the system. The verification eliminates the possibility of having duplicate suppliers and invoices in the system and improves the system performance.
Perform a Find or Query on the supplier name.
Submit a Suppliers Report.
Submit a Supplier Audit Report to obtain a listing of suppliers whose names are the same up to a specific number of characters.
Compare the supplier name with the names on these reports to ensure that the supplier does not already exist in the system.