An invoice is an itemized list of goods shipped or services rendered, with an account of all costs. Oracle Payables lets you capture all the attributes of the real-life invoice documents you receive from your suppliers. When you enter an invoice in Payables, the invoice information is divided between the invoice header and the invoice lines.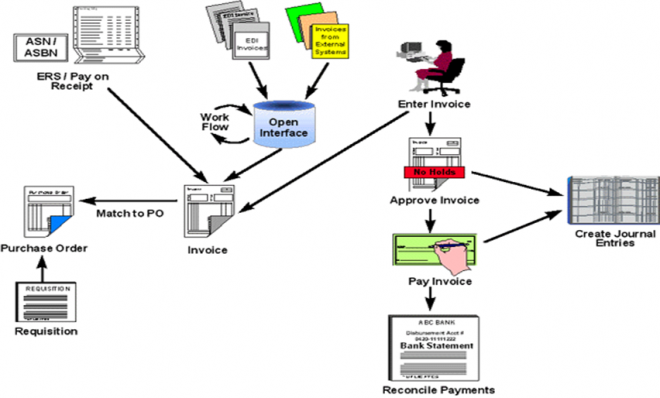 Invoice Header
The invoice header defines the common information about the invoice: invoice number and date, supplier information, remittance information, and payment terms. Information specified at the invoice header level defaults down to the line level. You can override the header level information for individual lines, as required.
Invoice Lines
The invoice lines define the details of the goods and services as well as the tax, freight, and miscellaneous charges invoiced by the supplier. There can be multiple invoice lines for each invoice header. The Lines tab of the Invoice Workbench captures all of the details for the invoice line necessary for accounting, as well as for cross-product integration with other Oracle E-Business Suite applications, such as Assets, Grants Accounting, Inventory, Projects, Purchasing, Property Manager, and Receivables.
For each invoice, you can manually enter invoice lines, or you can automatically generate lines by matching the invoice to a purchase order shipment, pay item, or receipt
Invoice Types
1.1 Standard A regular supplier invoice. The invoice usually includes line item details, including a description and price.
1.2 PO Default An invoice for which you know the matching purchase order number. Payables fills out as much information from the purchase order as possible: supplier name, supplier number, supplier site, and the currency.

1.3 QuickMatch An invoice you want to match automatically to a specified purchase order and all the shipment lines on the purchase order. Oracle Payables completes the match automatically for each shipment line, where the quantity ordered is greater than the quantity already billed against that shipment line.

1.4 Mixed A standard or credit/debit memo invoice that you want to match to a purchase order, another invoice, or both. You can enter either a positive or negative amount for a Mixed invoice.
2. Credit Memo An invoice you receive from a supplier representing a credit for goods or services purchased.
3. Debit Memo An invoice that notifies a supplier of a credit you recorded for goods or services purchased.
4. Prepayment An invoice used to make advance payments for expenses to a supplier or employee. In this case, you might not have actually received the goods or services yet.
5. Expense Report An invoice you enter to record business-related expenses for employees. The employee is the supplier.

6. Witholding Tax
7. Interest Invoice
Note :  Once you have saved an invoice with the type of PO Default, Mixed, or QuickMatch invoice, Payables will change the invoice type to Standard. You cannot later search and find PO Default, Mixed, or QuickMatch invoices in the Invoice Workbench.