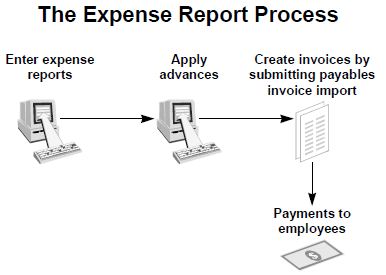 Use the Expense Reports window in Payables to enter Payables expense reports for your employees

. You can also use this window to review and modify any of the following expense reports:
Expense reports entered in the Payables Expense Reports window.
Expense reports submitted by your enterprise's employees using Oracle Internet Expenses.
Expense reports entered in Oracle Projects and then transferred from Projects to Payables.
If you have paid advances to an employee you can use this window to apply advances to expense reports to reduce the amount you pay. You can also apply a hold to an expense report to prevent payment. You can apply advances and holds to expense reports that are from any source.
Before you can pay expense reports you must submit the Expense Report Export program which automatically creates invoices from the expense reports. You can then use Payables to validate, pay, and account for the invoices. You cannot view expense reports in this window if they have been purged. If you do not purge expense reports, you can still view successfully imported expense reports in this window, but you cannot modify them.
To manage expense reports:

1. Enter employees and their locations, expense addresses, Supervisors, and default expense accounts.
2. Define the employee as a supplier using either of the following methods:
Enable the Create Employee As Supplier Payables option to automatically create suppliers from employees when you submit Expense Report Export.
Enter the employee as a supplier in the Suppliers window before submitting Expense Report Export for expense reports.
3. For expense reports entered in Payables and Oracle Internet Expenses, define expense report templates that model the different expense report formats your employees use and the rate and policy schedules that your enterprise uses.
4. Enter expense reports in any of the following products:
Payables.
Oracle Internet Expenses.
Oracle Projects.
5. In the Payables Expense Reports window optionally apply holds and/or apply advances to the expense reports. Optionally modify or review Payables or Projects expense reports.
6. Submit Expense Report Export to create invoices and invoice distributions for the expense reports. Review the Expense Report Export. If there are exceptions, correct any expense reports that caused exceptions and resubmit Expense Report Export.
7. Submit the Employee Update Program to update employee-type supplier records with up-to-date name and address information from the employee record.
8. Pay the invoices as you would any other invoices.