If you enter invoices for expenses or asset purchases for more than one balancing segment, you might want to use Automatic Offsets to keep your Payables transaction accounting entries balanced.
If you do not use Automatic Offsets, Payables creates a single liability accounting entry for invoice transactions (if you use accrual basis accounting) and a single cash type accounting entry for payment transactions.
When you use Automatic Offsets, Payables automatically creates balancing accounting entries for your transactions. The GL account that each of the offsetting accounting entry is charged to depends on which method you use, Balancing or Account:
Balancing

. Payables builds the offsetting GL account by taking the balancing segment (usually the cost center code) from the invoice distribution and overlaying it onto the appropriate default GL account, for example the Liability account from the supplier site.

Account

. The Account method takes the opposite approach with one segment (the designated account segment) being retained from the default GL account and all other segments being retained from the invoice distribution.
Although Payables builds the GL account to which amounts are charged differently depending on the method you use, in either case Payables automatically allocates the amount across the following accounting entries for an invoice:

Liability
Withholding Tax (if you apply the withheld amount at Invoice Validation time)
Payables also allocates the following entries for a payment:
Cash (if you use a pooled bank account)
Cash Clearing (if you use a pooled bank account, and if you account for payments at clearing time)
Discount
Exchange Gain/Loss
Future Dated Payment
Rounding
Withholding Tax (if you apply the withheld amount at Payment time)
Bank Charges
Bank Errors
Automatic Offsets affects only accounts listed above. For accounts other than these, for example, Interest Liability, you must make manual journal entries in your general ledger to keep the entries balanced at the balancing segment level.
Example
The following diagram illustrates how Payables builds a GL account on a liability distribution using the two different methods: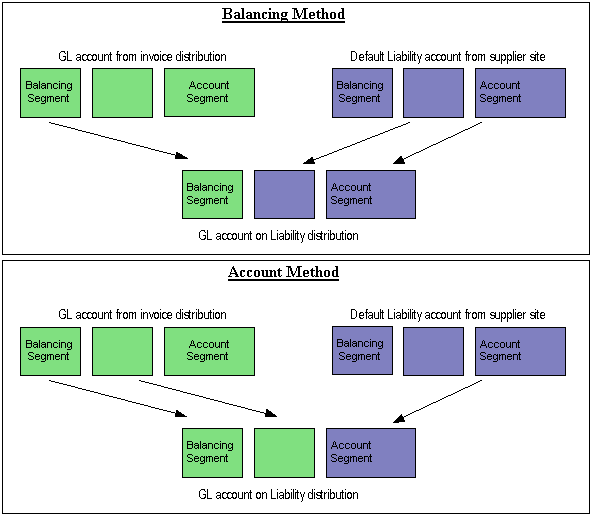 Automatic offset method : None
nvoice is cretaed with two distribution line with differnt balancing segments
Charge A/c with BS1: 01-000-1160-0000-000
Charge A/c with BS2: 02-430-5800-0000-000
 
Liability A/c in supplier sie: 01-000-2210-0000-000
When Accouting is done the system 'll Debit the charge A/Cs in two different balancing segments and it would  credit the liability given in supplier site.



Automatic offset method : Balancing
Invoice is cretaed with two distribution line with differnt balancing segments
Charge A/c with BS1: 01-000-1110-1100-210
Charge A/c with BS2: 03-120-7210-1100-130
 
Liability A/c in supplier sie: 01-000-2210-0000-000


When Accouting is done the system 'll create the Liability A/C for BS2 by repalcing the balancing segment of of the Liability A/c in BS1(i.e. 01-000-2210-0000-000) and the A/C would 03-000-2210-0000-000. The complete A/C 'll be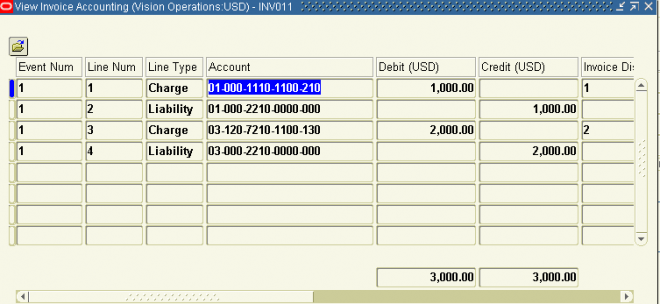 Automatic offset method : Accounting
Invoice is cretaed with two distribution line with differnt balancing segments
Charge A/c with BS1: 01-000-1110-1100-210
Charge A/c with BS2: 03-000-1813-0000-000
Liability A/c in supplier sie: 01-000-2210-0000-000
When Accouting is done the system 'll create the Liability A/C for BS2 by repalcing the natural a/c segment of of the charge A/c in BS2(i.e. 03-000-1813-0000-000) and the A/C would 03-000-2210-0000-000. The complete A/C 'll be