Entering Freight Information
You can assign freight charges to an invoice or to each invoice line. When you assign freight to an invoice, Receivables includes the freight amount in the total amount of the invoice. To assign freight to each invoice line, choose Freight from the Lines window after entering your invoice lines.
You cannot enter or update freight information if the invoice's transaction type has Allow Freight set to No or if the line type is either Tax or Charges.
By default, Receivables does not calculate tax on freight charges. However, you can calculate sales tax on freight by using inventory items to define freight services and entering these items as ordinary invoice lines.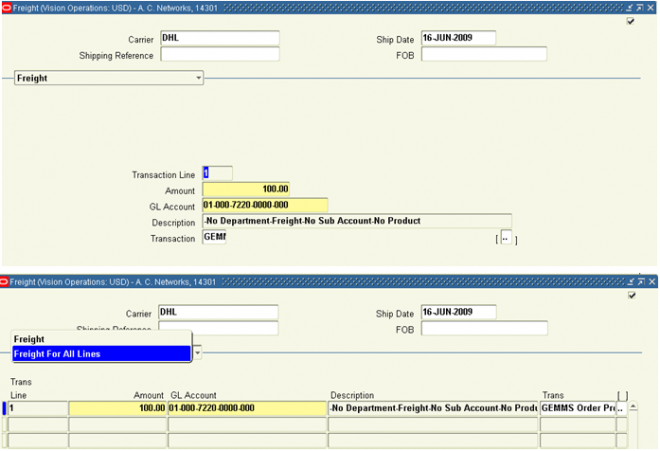 Carrier: The company you use to send product shipments to your customers.
FOB (free on board): The point or location where the ownership title of goods is transferred from the seller to the buyer. Receivables uses the Ship–to FOB and then the Bill–to FOB as the default value when you enter transactions.
Shipping Reference: Any related freight information you want to provide. Receivables does not validate this field.
Entering Tax Information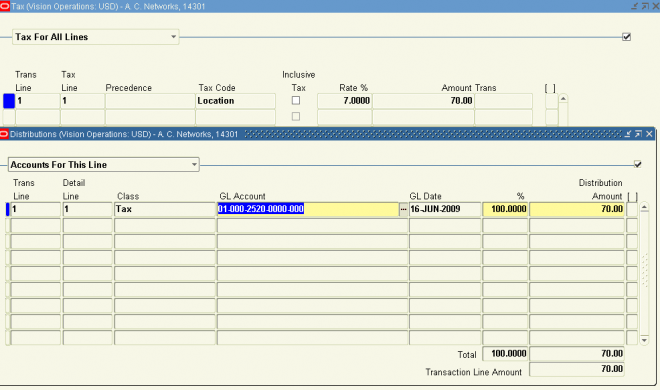 Receivables lets you enter and review tax information for your transaction lines in the Tax window. If the profile option Tax: Allow Manual Tax Lines is No, you can only review the tax lines Receivables automatically creates; you cannot manually enter or delete tax lines in this case. Additionally, you cannot assign a tax code that must use inclusive tax to a manually entered tax line. If Allow Override is set to Yes for an inclusive tax code, you can assign it to a manually entered tax line, but you cannot use it as an inclusive tax code.
For each invoice line, you can assign multiple tax codes and calculate compound taxes. Receivables automatically recalculates your compounded tax amounts whenever you save your changes or move to another tax line.
You cannot review tax information for a line if the standard line type is either 'Freight' or 'Charges' or if the transaction is a chargeback.