Receivables lets you create two types of commitments:
Deposits: Create a deposit to record a customer's prepayment for goods or services that you will provide in the future.
Guarantees: Create a guarantee to record a contractual agreement with your customer to conduct business over a
specified period of time.



Remaining Balances
Deposit Deposit balances refer to the amount due remaining on the deposit. Receipts and credits reduce the deposit balance.
Commitment Commitment balances refer to the contractual amount that has not yet been invoiced. Invoices against commitments reduce the commitment balance.
Invoice Invoice balances refer to the amount due remaining on the invoice. Deposits, receipts, and credits reduce the invoice balance
Creating customer Commitments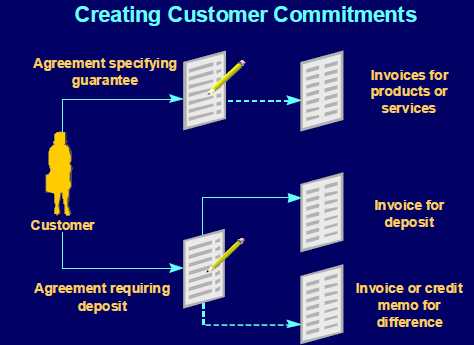 Use the Transaction window to enter or update your customer commitments. Receivables lets you update certain information depending on the commitment status. You define a commitment and then specify the debit and credit accounts. When your customers invoice or credit against their commitments, Receivables automatically adjusts the commitment balance and generates reversing accounting entries.
You can assign sales revenue and non–revenue credit as a percentage of the commitment total. If you do assign sales revenue credit, Receivables ensures that you assign 100% of your commitment total. To assign additional or bonus credit for certain sales, use non–revenue sales credits.
Note: Commitments do not include tax or freight charges.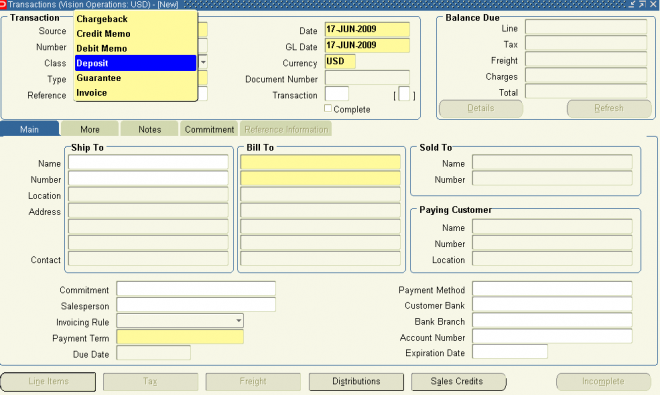 Enter the payment Terms if this commitment is a deposit.
Receivables calculates the Due Date based on the payment terms and date of this deposit. The default is the payment term assigned to the transaction type you entered for this deposit. Receivables uses the following hierarchy to determine the default payment terms, stopping when one is found:
 customer Bill–to site level
 customer address level
 customer level
 Transaction Type
You cannot enter payment terms if the commitment is a guarantee