A party is an entity that can enter into business and can be of the type Organization or Person. A party exists separately from any business relationship that it enters in to with another party. Information about a party such as addresses and contacts can be shared with the customer accounts of the party. For example, Vision Distribution could be a party within your trading community.
A customer is an organization or person with whom you have a selling relationship. This selling relationship can result from the purchase of products and services or from the negotiation of terms and conditions that provide the basis for future purchases. For example, a division of Vision Distribution could become one of your customers.
A customer account represents the business relationship that a party can enter in to with another party. The account has information about the terms and conditions of doing business with the party. For example, you could open a commercial account for  purchases to be made by Vision Distribution for its internal use and a reseller account for purchases made by Vision Distribution for sales of your products to end–users .
You can create multiple customer accounts for a party to maintain information about categories of business activities. For example, to track invoices for different types of purchases, you can maintain an account for purchasing office supplies and another account for purchasing furniture.
You can also maintain multiple customer accounts for a customer that transacts business with more than one line of business in your organization. You maintain separate customer profiles, addresses, and contacts for each customer account.
A customer address is a party site used in the context of a customer account for billing, shipping, or other purposes.
Both Party and customer acount are OU independant where as customer address is OU Specific.

A party site is the location where a particular party is physically located. Every party has only one identifying address, but a party can have multiple party sites.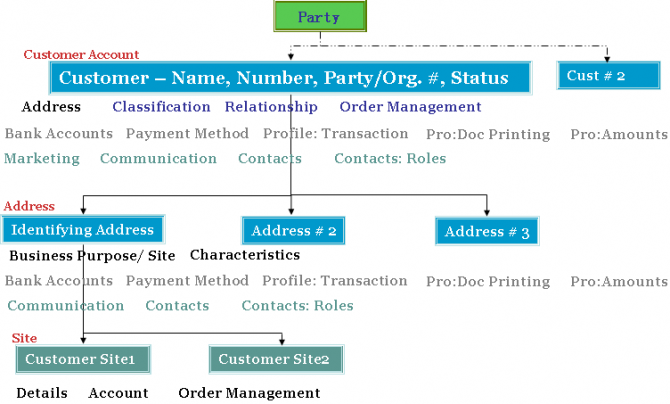 TCA Bascics
A relationship is defined by the characteristics or terms and conditions of that relationship.
The party model flows through the entire e-business suite. There is just one record to represent both prospect and customer. The entity itself is recorded, such as a person or an organization.
Before the customer terms are established that record represents a prospect and after the customer terms defined it's a customer.
The party model contains a unique set of information about a person, organization, or relationship. The tables store information such as parties, address, and bank accounts.
You can interact with the party model through the following
1.    Customer forms: Online entry and query of party and customer account information.
2.    Party interface: Batch load of party information
      
Managing Customer