AutoInvoice is a powerful, flexible tool you can use to import and validate transaction data from other financial systems and create invoices, debit memos, credit memos, and on–account credits in Oracle Receivables. You use a custom feeder program to transfers transaction data from an external system into the AutoInvoice interface tables. AutoInvoice then selects data from the interface tables and creates transaction in Receivables. Receivables rejects transactions with invalid information to ensure the integrity of your data. You can run AutoInvoice together with Customer Interface or
separately.

Oracle Receivables can create invoices from the following Oracle applications:  Oracle Order Management, Oracle Projects,  Oracle Service, Oracle Property Manager.
Oracle Receivables can create invoices from the following non-Oracle applications:  Legacy system (for transaction history),  Non-Oracle billing applications, Non-Oracle order entry applications.
What occurs during auto-invoice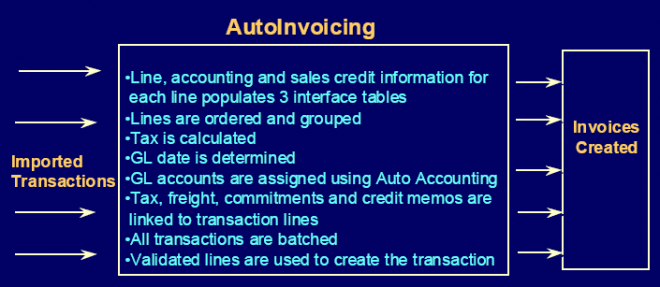 Populates the RA_Interface_Lines, RA_Interface_distribution and RA_Interface_salescredit tables.
Lines are grouped and ordered by the grouping rule and line ordering line.Grouping rules are mandatory and determine how transaction lines are grouped into transactions. Optionally, you can use line-ordering rules to determine the order in which lines are displayed on a transaction.
Tax, freight, commitments and credit memos are linked to transaction line by transaction line, transaction reference and transaction link-to descriptive flex fields.To uniquely identify imported transactions and link the tax, freight, commitments and credit memos, define the Transaction flexfields
GL date is determined.
GL accounting code combinations are assigned using auto accounting rule.
TAX is determined.
All transactions are batched.
Validated lines are used to create the transaction.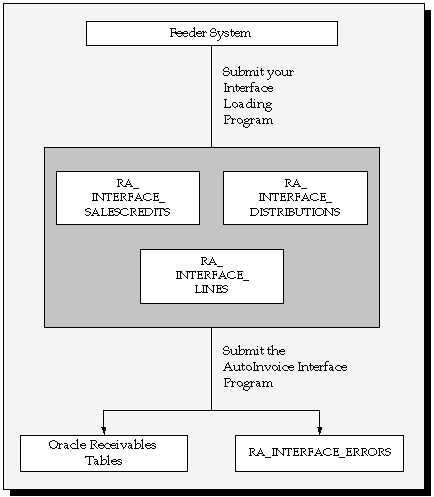 Grouping Related Transactions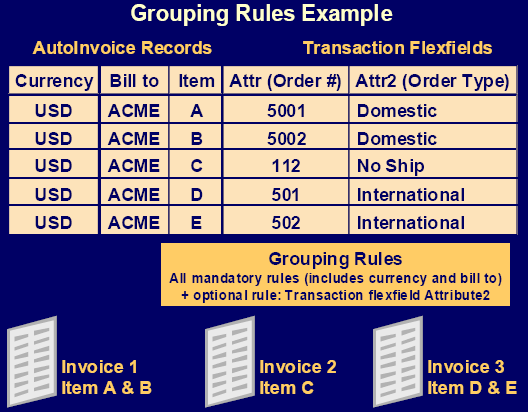 Grouping and ordering rules must include required attributes and may include optional attributes.
Required attribute examples
– Bill-To Address
– Currency
– GL Date
– Primary salesperson
Optional attribute examples
– Accounting rule
– Sales Order
– Tax Code


line ordering rules
 AutoInvoice uses line ordering rules to order and number the lines grouped into transactions. For example, you might want to use line ordering rules to ensure that the highest invoice line amounts are listed first.
 If an ordering rule is not defined, lines will appear on transactions in random order.
 You can specify a line ordering rule for each grouping rule.
Seting up autoinvoice
Define the following:
Transaction flexfields
Transaction Batch Source
AutoInvoice system options
AutoInvoice Line Ordering rules
AutoInvoice Grouping rules