When you create an adjustment that is outside of your approval limits, Receivables creates a pending adjustment with a status of Pending Approval. Pending adjustments must be approved before Receivables will update the balance of the transaction.
Note: An adjustment that is pending approval does not reserve the transaction from updates by other types of activity, such as cash or credit memo applications.
You can approve a pending adjustment only if the adjustment amount is within your approval limits. However, you can review adjustment histories, record your comments, and create all other actions (such as assign a status of More Research or Rejected), even if the adjustment is outside your approval limits.You can approve an adjustment that has been selected and approved for automatic receipt generation only if the user profile option AR: Invoices with Unconfirmed Receipts is set to Adjustment or Adjustment and Credit.
When you approve an adjustment that is within your approval limits, Receivables automatically updates the balance of the transaction.
To approve a pending adjustment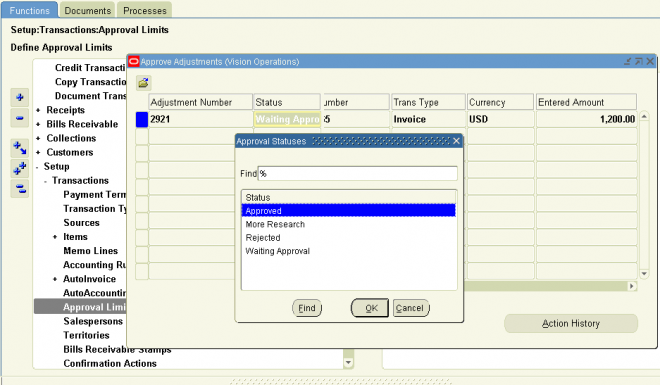 1. Navigate to the Approve Adjustments window.
2. To limit your display to only certain adjustments, enter selection criteria. For example, enter a Creator, Adjustment Number, Currency, range of Amounts, or adjustment Status. Open the More tabbed region to enter selection criteria for a specific transaction, customer, or adjustment. Leave a field blank if you do not want to limit your query to adjustments matching that criteria.
You can control how Receivables displays your adjustments by choosing the Order By Amount or Status option.
3. Choose Find.
Note: You can view the detail accounting lines for an adjustment in the form of a balanced accounting entry (i.e.,
debits equal credits) by choosing View Accounting from the Tools menu. You can also choose to view the detail accounting
as t–accounts.
4. To approve an adjustment, enter a Status of Approved.
To review information about this adjustment, including the date this adjustment was created, who created this adjustment, and any related comments, choose Action History.