Use the Applications window to apply your receipts or on–account credits.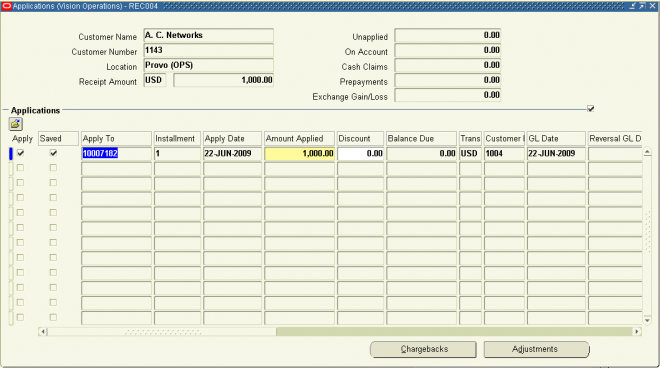 You can apply all or part of a receipt or on–account credit to a single debit item or to several debit items. For example, your customer may send a single check to pay all of one invoice and part of another invoice. Or, a customer may have an on–account credit he will expect you to use with his receipt to close an open debit item.

You cannot apply an unidentified receipt

; you must specify the customer who remitted the receipt before you can apply it to a transaction.
You can apply a receipt to an unrelated

customer's debit items if the system option Allow Payment of Unrelated Invoices is set to Yes.

You can apply receipts to any type of transaction

except guarantees and standard credit memos

.
You can also combine

on–account credits with a customer's receipts to increase the amount you can apply to debit items

, leave partial receipt amounts unapplied, or place an amount on–account. If you leave partial receipt amounts unapplied, you can write off the remaining receipt balances.
You can apply receipts in the same foreign currency as your transactions. Enter foreign currency exchange rate information using predefined exchange rates, or enter your own rate. When you post a foreign currency receipt application to the general ledger, Receivables records a realized gain or loss amount.
If you have set up Receivables to use cross currency receipts, you can apply a receipt in one currency to one or more transactions in different currencies.
Receivables uses the transaction type of the debit item to which you are applying the receipt to validate the application amount. If the transaction type does not allow overapplication, you cannot enter an amount that would reverse the sign of the debit item. If the transaction type specifies Natural Application only, you must enter an amount that brings the balance due closer to zero.
Receivables uses the

Application Rule Set assigned to this debit item's transaction type to determine how to reduce the open line, tax, freight, and finance charge amounts

. If there is no application rule set assigned to this item's transaction type, Receivables uses the application rule set in the System Options window.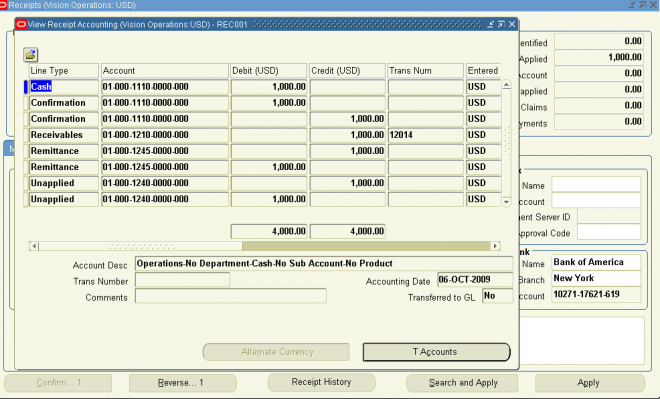 Account entries
1. If the receipt does not require remittance and clearance then the account entries would be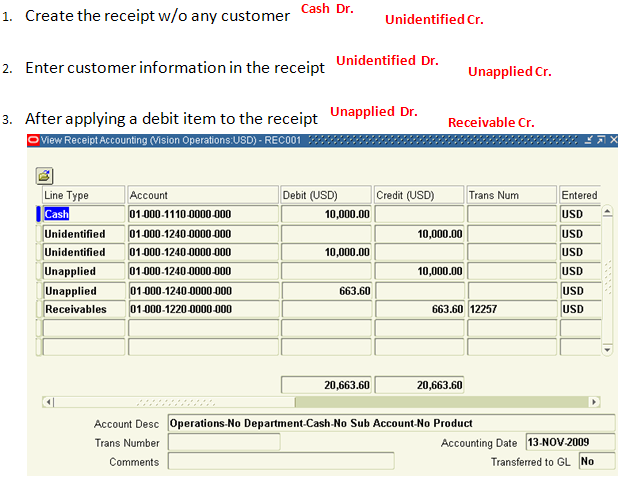 2. Account entries for receipt with remittanc and clearnce are
Confirmed Receipt Dr.
                                  Unidentified Cr.
Unidentified Dr.
                                  Unapplied Cr.
Unapplied Dr.
                                   Receivables Cr
Remitted /Cash Clearing Dr.
                                           Confirmed Receipt Cr.
Cash Account Dr.
                                           Remitted /Cash Clearing