Oracle Receivables is a full-function accounts receivable system that allows you to manage your customer base, invoice and payment processes effectively.
Oracle Receivables provides four integrated workbenches that you can use to perform most of your day–to–day Accounts Receivable operations. You can use the Receipts Workbench to perform most of your receipt–related tasks and the Transactions workbench to process your invoices, debit memos, credit memos, on–account credits, chargebacks, and adjustments. The Collections Workbench lets you review customer accounts and perform collection activities such as recording customer calls and printing dunning letters. The Bills Receivable Workbench lets you create, update, remit, and manage your bills receivable.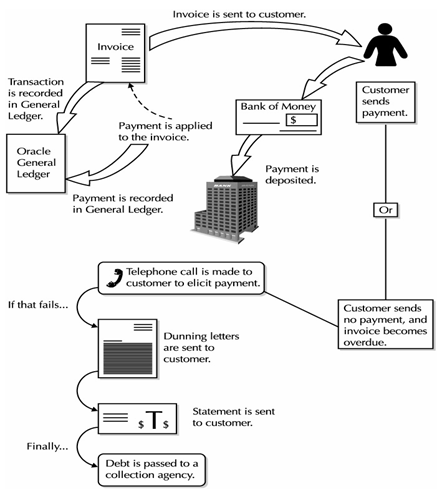 Companies sell their products either for cash (immediate payment in the form of a check, credit card, or notes and coins) or as invoiced sales on credit with specific payment terms. Invoiced sales create a receivable in the balance sheet (General Ledger), which represents the money due to the company. The financial health of a company depends on keeping track of its customers and ensuring prompt collection of the money owed.
1. Receivables produces three legal documents to notify customers of their obligations:
      An invoice is usually sent shortly after a sale has been made. It states the obligation and provides details.
      A statement is a summary of the transactions over a period of time. It shows all open transactions. It may also show payments made within the period.
      A dunning notice informs the customer of past-due obligations.
Companies can choose not to use both statements and dunning notices. However, because they are legal documents, most companies retain the ability to produce all three document types in a paper format. In the interests of efficiency, however, many now send invoices by EDI, fax, or e-mail, and they may agree with established customers to rely exclusively on electronic documents.
2. The customer can choose to pay the invoice in a variety of ways: by check or bank transfer, direct debit, or bill of exchange. When payment is received from the customer, you apply the cash to the customer account, reducing the amount owed and generating journals in GL. A partial payment will reduce the amount owed, but not to zero. The amount owed by each customer can be seen on the Aging Report and Account Detail screen.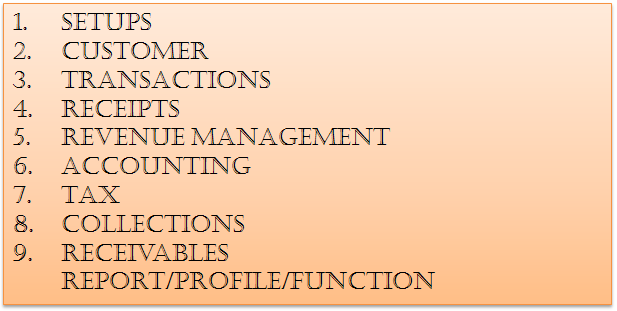 1. Setups
2. Customer
3. Transaction
4. Receipt & Revenue Management
5. Bills Receivable
6. Collection
7. Accounting
8. TAX
9. Report/etc
iReceivables
Using iReceivables customers get immediate secure access to their account details over the Internet. They can print copies of invoices or credit memos, dispute bills they don't agree with, and review their current account balance. Access is available to anyone with a Web browser and the appropriate security details. All transactions accessible via iReceivables are protected by Oracle's standard application security as well as user authentication and the ability to define and limit user access