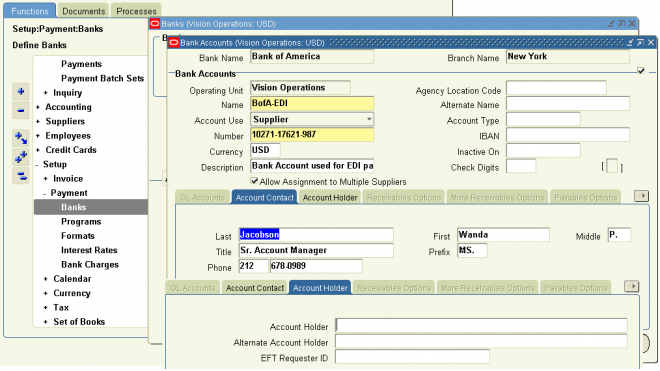 Account Holder Region of the Bank Accounts Window
Account Holder Name of the person or organization within your organization who is responsible for this account (optional).
Alternate Account Holder The alternate name for your bank account holder.
If you are using this internal bank account to process NACHA–formatted electronic payments, enter the name of the tax
reporting entity that will be referenced by the payment files, exactly as it appears in the Reporting Entity window.
If you do not use this bank account for NACHA–formatted payments, then this value is not used by the system and is for your reference only.
EFT Requester ID Numeric designation of the organization or person that is responsible for generating this account's electronic payments (optional). This number is assigned by the bank.
Account Contact Region of the Bank Accounts Window
Prefix. The prefix (Mr., Ms., etc.) of the contact.