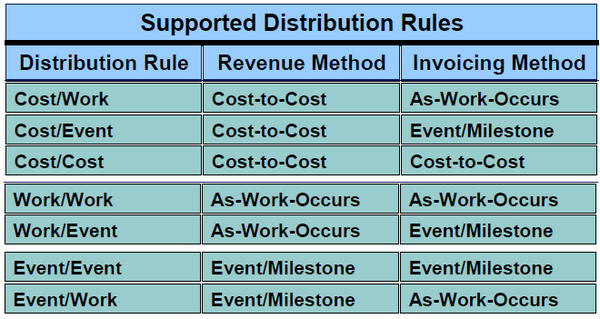 You specify the invoicing method based on the distribution rule that you select for the contract
project. Oracle Projects supports three methods of invoicing:
As-work-occurs
• Based on bill rates or markups applied to detail transactions:
- Time and Materials (T&M) when using bill rates, or
- Cost plus when using burden schedules
Cost-to-cost
• Based on the ratio of the actual costs to budgeted costs and revenue (referred to as percent spent)
Event-based
• Based on the Oracle Projects client extensions calculations or direct user input from externally calculated amounts; for example:
- Automated milestone creation
- Percent progress complete calculations
Percent Complete
You can enter the percent complete for a project or task. Percent completion information is used for
revenue accrual and billing, and for reporting purposes. Oracle Projects does not calculate project
or task percent completion, but uses the percent complete amounts that you enter.
Each percent complete has an As Of Date. When you use percent complete as the basis for generation of draft invoices, the As Of Date is used to determine the current percent complete.
You can enter the percent complete values manually or interface them from the project management system.
Processing Percent Complete Invoice
To calculate the physical percent complete invoice, you submit the PRC: Generate Draft Invoices process. To submit the process for only one project, submit PRC: Generate Draft Invoice for a Single Project. The invoice process performs the following steps:
1. The process calls the billing extension for each project or top task (depending on whether
the project is funded at the project or top task level). The calling procedure specifies
whether it is an invoice calling process and whether the call is made at the project or task
level.
2. The billing extension determines the budget amounts, event amount, existing revenue mounts, funding balance, and percent complete.
3. If the percent complete cannot be determined, then the percent complete used by the
process is zero, the draft invoice amount is zero, and no event is created.
4. The following formulas show how the process calculates the draft invoice amount:
Accrued Revenue = The lesser of A or B
A = Remaining funding balance if agreement has a hard limit
B = ((Budgeted Revenue - Event Revenue) * Percent Complete at Funding Level/100)
- Existing Revenue
Event Revenue = Total event revenue accrued other than revenue amount accrued by
percent complete events
Existing Revenue = Total revenue accrued previously by percent complete events
5. The billing extension creates an event. The description of the event includes the event
type and the formula that was used to calculate the draft invoice amount