Adjustment and write off both are done from the receipt application form but adjustment is applied to invoices where as write off is applied to receipts(customer payments).
Scenario 1:  For an Invoice amount of 119, customer pays 125. The best option is to put the EUR6 in On Account but if the business doesn't expect any further transactions with the customer then the extra amount can be written off.

 Scenario Scenario 2:  For an Invoice amount of 119, customer pays 119 but the bank charges 19 as transaction fee. In this case the business can take 100 cash and 19 to the adjustment. The revenue'll remain the same 119.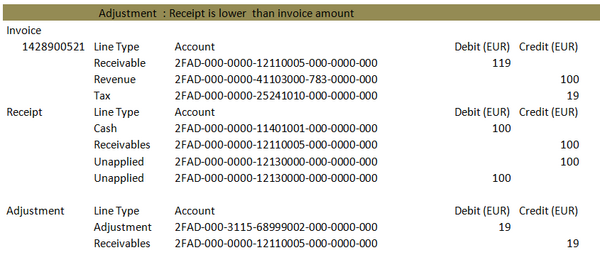 Enable Important Points
1. The profile 'AR: Allow Actions ' shoule be enabled for showing adjustment & chargeback buttons on receipt form.

2. 'Adjustment Reversal' activity is used by the system, for the reversal of an adjustment that is tied to an invoice whose payment has been reversed using the Receipt Reversal form.