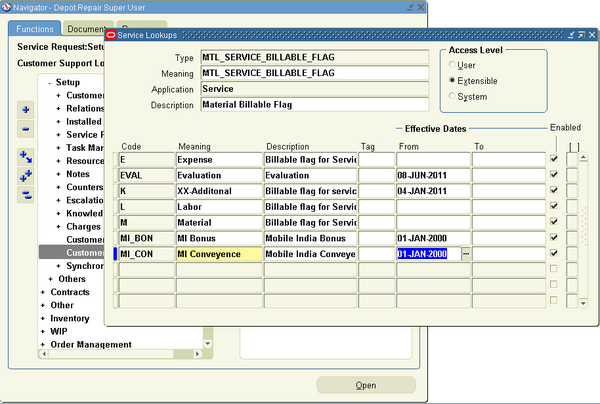 Every item to be processed using Charges must be set up in Inventory as a Material, Labor, or Expense  (MLE) item. This means every item in Oracle Applications that may need repair must be set up as a Charges MLE item.
Billing Categories classify Billing Types into Material, Labor, and Expense. Each serviceable item in Inventory is classified using Billing Type Codes associated to a  Billing Category.
A Service Activity Code is a type of action to be performed, for example, replace, return, install, drain, fill. The combination of Billing Type and Service Activity defines the Order Type for a given operating unit. It also provides the basis upon which discounts for a Service Contract can be applied.
Charges is a module of Oracle TeleService. Setting up Charges for all service-related processing consists of steps that serves a variety of Oracle applications, including Oracle Depot Repair.
Setting up Oracle Charges for Depot Repair processing includes the following setups :
Defining Billing Type Codes
Mapping Billing Type Codes to Billing Categories
Defining Service Activities and Billing Types
Defining Service Business Processes
Defining Installed Base Transaction Sub Types
Setting Up Time and Material Labor Schedules
To define Transaction Billing Type Codes:
1. From the Navigator, use the following path to open the Oracle Service Lookups window:
Service Request > Setup > Customer Support Lookups.
2. Query up the Lookup Type MTL_SERVICE_BILLABLE_FLAG.
3. Add the new required Billing Type Codes. You can use the online help for more information.
The seeded Billing Type Codes are M, L, and E.