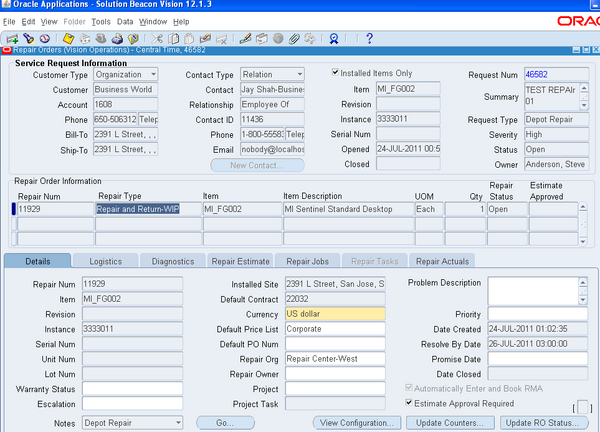 At the core of Oracle Depot Repair is the Depot Repair Workbench that provides service agents with instant access to customer and Repair Order information. You can access a number of tabs from the Depot Repair Workbench. Some tabs show information about the customer, the Service Request, and the service history of the item. Other tabs let you process transactions, such as:
• Receipt or shipment.
• Creation and processing of Repair Jobs and tasks.
The Depot Repair Workbench also provide access to a knowledge base through Oracle Knowledge Management.
Navigation : Depot Repair > Repair Orders
The title of the main window in Oracle Depot Repair is Repair Orders. As most of the Oracle Depot Repair user operations start in this window, it is generally referred to as the Depot Repair Workbench.
In the Depot Repair Workbench you can perform all service depot repair functions, including Repair Order creation, status monitoring, receiving, and shipping. From the Depot Repair Workbench, you can create Repair Orders to track the activities on customer or vendor items returned to service depot repair, for repair, upgrade, or overhaul.
The Depot Repair Workbench provides integration with Oracle E-Business Application Suite modules and components, such as Notes, Charges, Knowledge Management, Install Base, Work in Process (WIP), Bills of Material (BOM), General Ledger, Inventory, Shipping, and Receiving.
Service organizations can start their service depot business process from the Depot Repair Workbench. When a service agent enters the customer and item information, the Depot Repair Workbench automatically validates the customer and item in the Install Base.