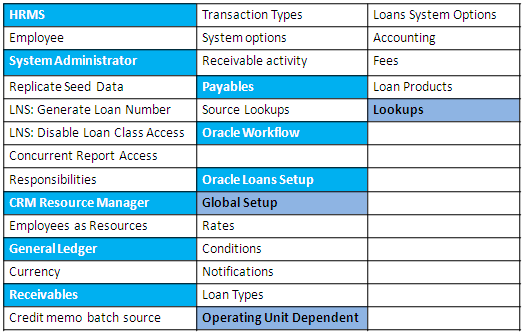 This section provides you with an overview of the setup steps for implementing Oracle Loans.
These setup steps span the following Oracle applications:
1. Oracle HRMS
2. Oracle System Administrator
3. Oracle Resource Manager
4. Oracle General Ledger
5. Oracle Receivables
6. Oracle Payables
7. Oracle Workflow
8. Oracle Loans
Run the Replicate Seed Data program for each operating unit in which you plan to use Loans.
This step replicates the Loans batch source that you will use during Oracle Receivables setup as well as other data such as receivable activities and reason codes. You should complete this step before configuring the Loans credit memo batch source.
Profiles
LNS: Generate Loan Number
Set this profile option to Yes if you want Loans to automatically generate the loan number when you create a new loan. The default setting for this profile option is Yes.
LNS: Disable Loan Class Access
Set this profile option to prevent loan agents from creating loan applications by loan class. You can restrict access to ERS loans or direct loans. The default setting for this profile option is null.
Concurrent Report Access Level
Set this profile option to determine the access privileges to report output files and log files generated by concurrent programs.
If you set this profile option to Responsibility, users can access reports and log files submitted by any user with the same current responsibility.
Oracle Responsibilities
Loan Administration
Use this responsibility to set system options, enter accounting defaults, define loan conditions, fees, interest rates, and notifications.
Loan Agent
Use this responsibility to create loans, enter credits, view loan information and payment history, view and submit concurrent requests, and answer customer
service inquiries.
Functional manager users can also use this responsibility to approve loans and update loan accounting.