You must perform several setups steps before you can use cartonization. For items that always require a specific container, use the container load relationship. For other items packed into containers in a container group, you must create categories to group the container types and the items. You must then assign the corresponding items to the
categories, and assign the physical characteristics such as volume and weight. Finally, you must define the containers the, designate physical characteristics, and assign them to the corresponding categories. You must enable sales order cartonization at the subinventory and organization levels if necessary.
1.1 Subinventory and Organization Setup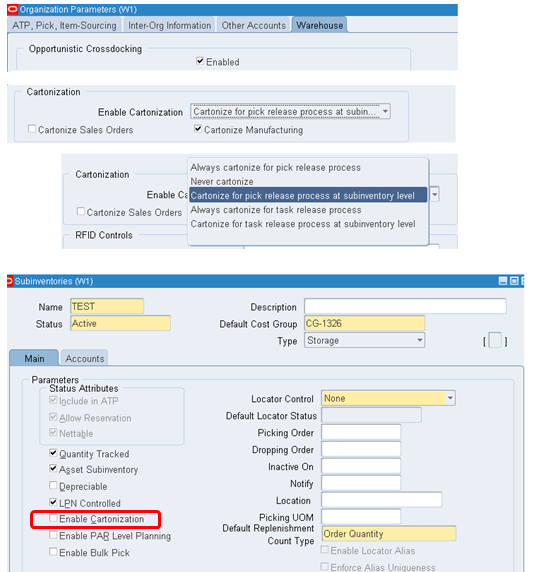 You must setup cartonization for subinventories and organizations when you use cartonization during pick release if cartonization for sales orders or manufacturing is appropriate for your business process. Some subinventories may store items in LPNs that are already packed, such as a case or a pallet area.
Parameters on the Warehouse tab of the Organization Parameters window control the cartonization level, and the cartonization processes to use. The "Enable Cartonization" flag has three options:
You can turn on cartonization, in which case pick released lines are cartonized regardless of the allocation subinventory.
You can turn off cartonization in which case no pick released lines are cartonized.
You can configure cartonization at the subinventory level. The system first checks the cartonization flag on the subinventory definition before cartonization.
In addition, there are two flags that independently control whether cartonization is performed during sales order pick release or manufacturing component pick release.
The cartonization flag on the subinventory has only two options: enabled or disabled.  This flag is used if you set the "Enable Cartonization" to "Controlled at Subinventory" on the Organization Parameters window.