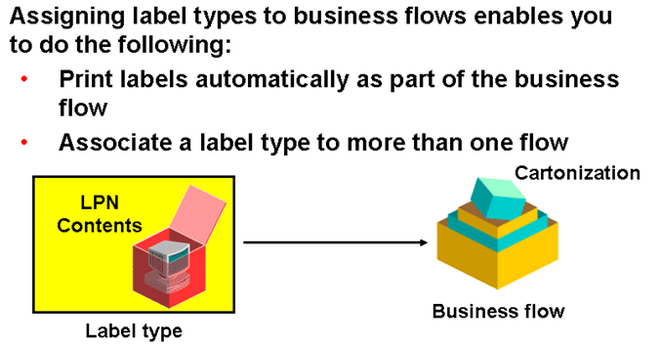 After you set up label formats, you must associate them with the specific warehouse business flow where you want to use them. This association enables the label type to be printed automatically as part of that business flow.
You can also print the same label type from different business flows with a different format used at each flow. For example, many times a package is labeled with a carton label when it is picked (Shipping Contents label type at Pick Load business flow), but is then labeled with a shipping label when it is shipped (Shipping Contents label type at
Ship Confirm Business flow.) This enables you to set up a label format selection rule that is based on the business flow that the label print request was generated from.
The following table provides a list of the various business flows and the types of labels that you can associate with each flow. The horizontal header row of the table lists the various label types that are available. The far left vertical column lists the warehouse-related business flow. The number in parentheses ( ) indicates the business flow code number that is needed when you are defining Rules Engine format based rules. Yes indicates that the system can generate the label type for that business flow.
No means that the system does not generate that label type for the business flow.