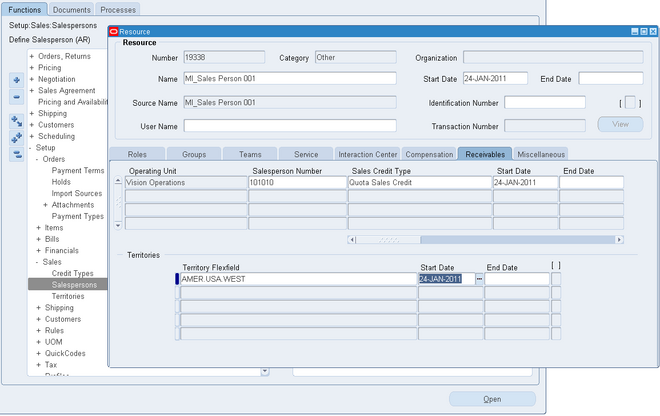 You set up your salespersons and assign sales territories using the Resource window, with most of the information you enter being on the Receivables tab. Receivables lets you define multiple salespersons to which you can assign sales credits when entering invoices. If AutoAccounting depends on salesperson, Receivables uses the general
ledger accounts that you enter here in combination with your AutoAccounting rules to determine the default revenue, freight, and receivable accounts for your invoices.
Oracle Receivables uses No Sales Credit as the default in the Salesperson field when you enter transactions if the system option Require Salesperson is set to Yes and no salesperson is defined at the bill–to, ship–to, or customer level.
Note: If AutoAccounting is based on salesperson, then you must query the No Sales Credit record in the Resource window and enter revenue, freight, and receivable accounting information. These accounts are required when creating a debit memo reversal or when entering transactions with No Sales Credit.
Active salespersons appear in the list of values in the Transaction and Customers windows. You can make a salesperson inactive by unchecking the Active in Receivables check box and then saving your work, or by specifying an end date for this salesperson.