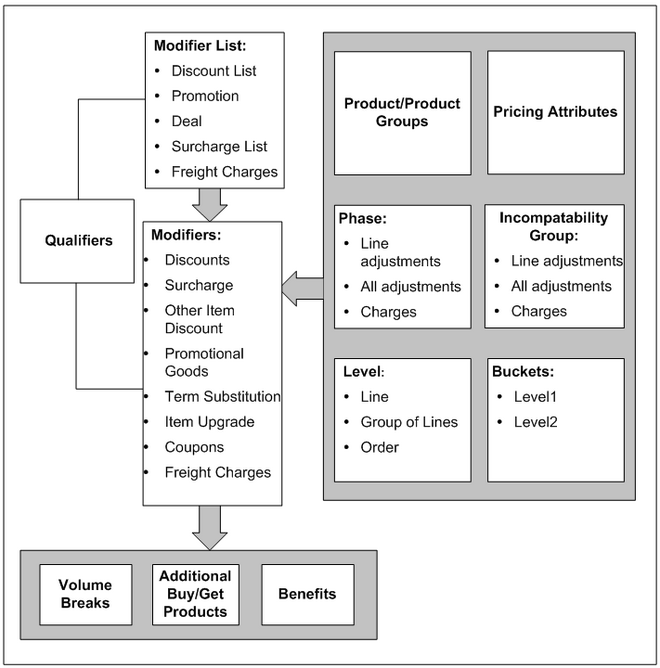 Using modifiers, you can set up price adjustments, benefits, freight and special charges, and promotional limits to control spending or usage. You can define simple discounts and surcharges as well as more advanced deals and promotions. The following list describes the main modifier concepts and related entities:
Modifier lists contain one or more modifiers. Modifiers have list level and line level components. Each list level must have one or more lines associated with it.
By defining qualifiers at the list and line levels, you define a customer's eligibility for the modifier.
Control features that influence modifiers are products and product groups, pricing attributes, phases, incompatibility groups, levels, and buckets.
The use of modifiers can result in volume breaks, additional buy/get products, and benefits.
Modifier Components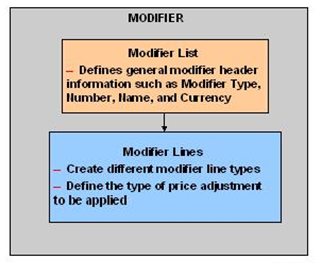 Using modifier lists, you can create groupings of price adjustments, benefits, and freight and special charges that you offer and report together to meet various business needs.
At the header level of the modifier list, you define criteria that is common to the modifier lines. Create modifier lines for a modifier list to define the type of price adjustments, benefits, or freight and special charges that the pricing engine applies to pricing requests.