Depot Repair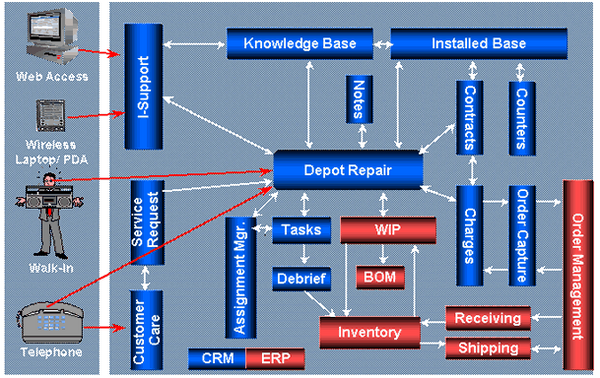 Oracle Depot Repair is part of the Oracle E-Business Suite and offers an enterprise-wide solution for managing depot repair processing. It targets the repair business market from simple, quick repairs to routine maintenance. Oracle Depot Repair integrates with other Oracle E-Business Suite modules to provide an integrated comprehensive solution for the repair business sector.

The depot repair process includes the return of broken and serviceable items, their diagnoses and repair job estimates, customer approvals and repairs management, and subsequent return of items to customers. You use the collection of charges for materials, labor, and expenses for the repairs to invoice the customer.

The depot repair process also includes the processing of item refurbishments, where the items either belong to an internal party, or the items are received from a field service warehouse and then returned to the warehouse after repair.

Customers expect quick and seamless repair processing. Oracle Depot Repair provides end-to-end repair management functionality for service organizations that are committed to delivering a total service solution.

Oracle Depot Repair enables service organizations to meet customer expectations, and draw maximum benefit by improving service readiness.