Oracle Loan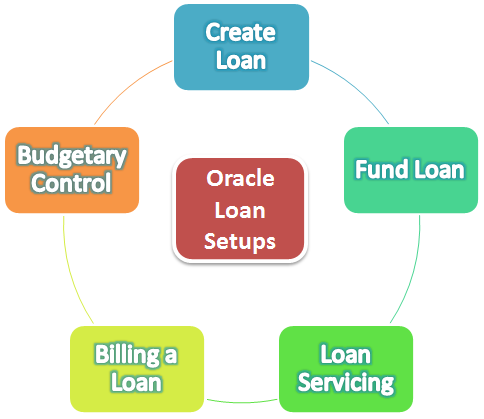 Oracle Loans supports the entire loans management life cycle, from loan origination and approval, to servicing and eventual loan payoff.
Use Loans to:
Track a loan from initial application until approval and funding
Create approval conditions
Set up periodic loan billing for all active loans
Loans is seamlessly integrated with other applications within the Oracle E-Business Suite to facilitate all aspects of loan management.
For example, Loans automatically integrates with:

Oracle Trading Community Architecture
Borrowers, co-borrowers, and guarantors are stored in the TCA Registry. When you create a new loan for an new or existing borrower, Loans leverages functionality from the Customer Data Hub to prevent you from creating duplicate borrower records.

When you create a new borrower in Loans, it is automatically entered into the TCA Registry.
Tip: Schedule the DQM: Setup Data Synchronization program to run as frequently as every minute in order to be able to search for new borrowers.
Oracle General Ledger
Oracle Payables
Loans integrates with Oracle Payables to disburse funds for approved direct loans.
Suppliers are created in the Loan Origination process. Payables invoices are created upon loan approval. Then Payables clerks validate the invoices and process the payments by check, wire or other Payables methods, to disburse funds to a third party agency or directly to the borrower
Oracle Receivables
When creating a loan application, you can select an existing receivable to create an ERS loan.

Additionally, billing documents (such as invoices and debit memos) are created in Receivables when you initiate the billing process for loans. These billing documents provide payment amounts for principal, interest, and fees. When payment is remitted, your Receivables clerk applies receipts to these documents. Your receivables clerk also transfers journal entries for billing and payments the general ledger.
Oracle Advanced Collections
Loans uses Advanced Collections scoring engines to identify when loan payments are overdue and set the status of the loan to Delinquent or In Default, depending upon the severity of the overdue condition. From there, Advanced Collections takes over and provides automated dunning or collections strategies to schedule calls and other collection activities for the collections agents. Advanced Collections processes payments and promises to cure the troubled loans.
Oracle Credit Management
Loans displays information from Oracle Credit Management in the Borrower Summary. This information can be used in the loan application and approval process.
Oracle Common Application Calendar
Use Oracle Notes to track comments and customer interactions, during both loan origination and servicing phases.
Use Oracle Attachments functionality to add attachments such as scanned documents or URLs to notes or loan approval conditions.
Oracle XML Publisher
Loans uses XML Publisher to generate statements and reports for Loans. These can be printed in multiple formats and made available to download or forward.
• Statements are used to inform the borrower about their next bill.
• The Loans Portfolio Report provides a listing of all loans along with critical loan summary information.
• The Loans Reconciliation Report assists lending organizations to review billing and payment discrepancies.
• The Loan Agreement Report provides a printable document of all loan details.