eBusiness Tax
Ebusiness Tax provides a repository to store tax information and record tax events.
Individual applications (for e.g. Purchasing) avails the tax services provided by Ebusiness Tax to create/update/display tax information for its transactions. The tax services that can be availed from Ebusiness Tax are listed below.
Define Tax Content
Determine Tax
Manage Tax
Record Tax
Report Tax
Reconcile Tax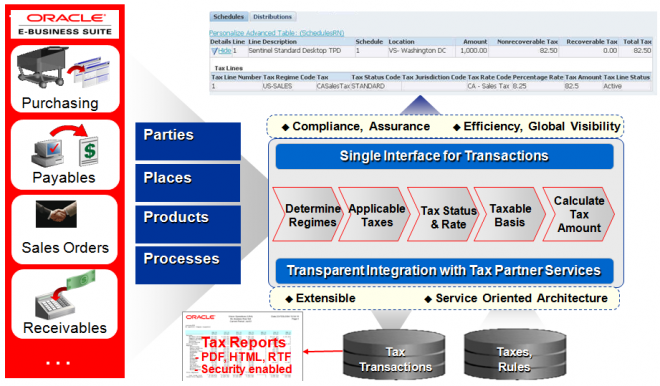 Oracle E-business tax is a new product in R12.
It provides the infrastructure for transaction tax knowledge management and delivery using a global system architecture that is configurable and scalable for adding country-specific tax content.
It is a single point solution for managing transaction-based tax.
Uniformly delivers tax services to all E-Business Suite business flows through one application interface.
It Consists of a tax knowledge base, a variety of tax services that respond to specific Tax events, a set of repositories (for tax content and tax recording) that allows customers to manage their local tax compliance needs in a proactive manner, as well as the ability to integrate with external tax content providers through a single integration point.