Oracle iProcurement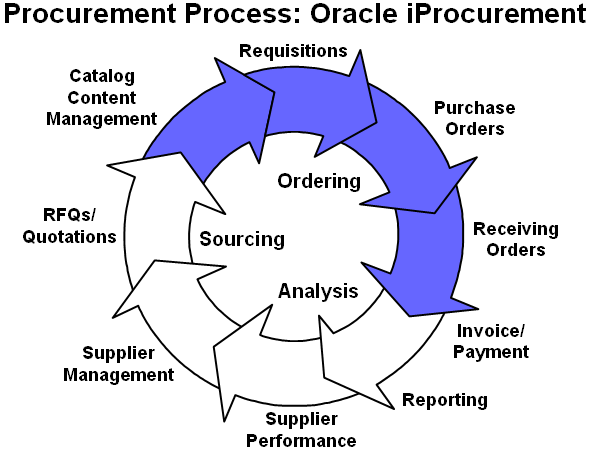 The Oracle iProcurement functionality provides the essentials for the ordering portion of the procurement process. This includes catalog content management, requisitioning, purchase order creation, and receiving orders.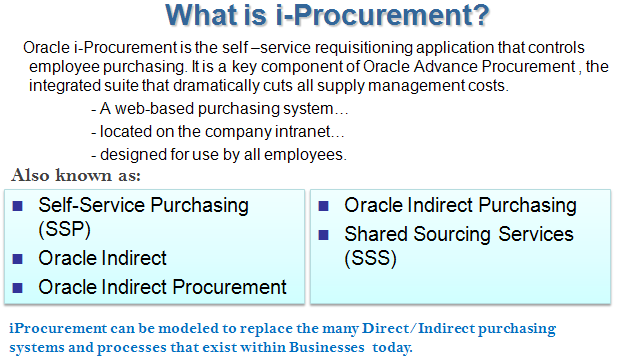 Oracle iProcurement 11i enables internal corporate requesters to independently order items from both

local (internal)

and remote (external) catalogs. Oracle iProcurement 11i is fully integrated with Oracle Applications Release 11i.

Oracle iProcurement is part of Oracle Applications, an integrated suite of E-Business solutions designed to transform your business into an E-Business. Along with the rest of the Oracle E-Business suite, iProcurement helps an enterprise streamline the procurement process with end-to-end business automation. It is the starting point for the ordering process and provides powerful self-service requisitioning capability with an intuitive, web shopping interface. It constitutes a key component of the complete procure-to-pay business flow and helps an enterprise to process and manage requisitions and receipt of the requested goods/services in an efficient and automated manner.


Indirect & Direct
Indirect sourcing is:
The purchase or procurement of any goods or services that are not directly related to/included in the manufacture of any of our primary products
Examples include (but are not limited to): Office supplies, Advertising, Training & Tools etc.

Direct sourcing is:
The purchase or procurement of any goods or services that are directly related to/included in the manufacture of any of our primary products
Examples include (but are not limited to): Standard Inventory Item (Laptop), Manufacturing Item (Car)

iProcurement should be used for the purchase of ALL goods and services

Why are we switching to iProcurement?
Simplicity : There are several different ways to acquire indirect materials right now, each with its own rules
Cost Savings: Transactional costs are reduced by lowering the number of touches a requisition experiences eBusiness Direction All Businesses have implemented/are implementing Oracle Purchasing systems
Ability to buy administrative items
Ability to buy production items
Self-guiding catalog
Desktop receiving
Single global instance
Punchout to other exchanges
Integration with enterprise resource planning (ERP) system